Will Delray Beach Ban Dockless Scooters?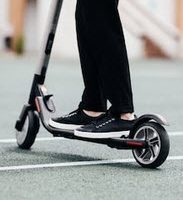 Dockless scooter companies like Lime and Bird are all the rage right now. Seen as a convenient way to get around town, scooters are unfortunately expensive to own and maintain. This is where dockless scooter companies come in. Using your app, you find a scooter near you, connect to it, and then go on your way. The app then bills you for your ride. Bird, for example, bills $1 to connect to the scooter and then 15-20 cents per mile.
According to WPTV, Delray Beach might soon ban these scooters, though the city does not yet have any. There are sensible reasons for doing so.
Dockless Scooters Can Pose a Hazard
The scooters are "dockless," which distinguishes them from electrical bicycles that you need to pick up and drop off at loading docks. With a dockless scooter, you simply abandon it when you are done riding. You don't have to take it anywhere in particular. In fact, you can drop it in the middle of the sidewalk or in front of a store.
As you can imagine, scooters are definite trip hazards for anyone not looking for them. They also can block wheelchair access if they are dropped off in front of a ramp.
Dockless scooters are such a hazard that San Francisco initially banned them, though the city has slowly allowed them back in. San Francisco has attempted to create areas where the scooters must be dropped off, which can reduce the risks that someone will trip and fall over one.
Accidents Involving Scooters
Scooters might not go as fast as motorcycles, but they can still injure their riders. Many people around the country have suffered serious injuries while riding a scooter or after being struck by one. If the scooter is ridden in the road, then they pose a hazard to other vehicles and can set off a chain reaction of accidents.
Phoenix, Arizona has seen a surge in scooter accidents. According to azcentral.com, they had over 100 accidents involving scooters. Tempe, Arizona has also had over 100 incidents. Devastating accidents involving dockless scooters also regularly make the national or local news. For example, a 5-year-old was killed in an accident when he fell off a scooter in Tulsa, Oklahoma and was struck by a vehicle. His mother was charged with negligent homicide.
If you choose to ride a scooter, wear a helmet. You must also use the scooter as directed. Don't ride too fast and don't attempt to swerve aggressively on the scooter, which could throw you off balance and makes the scooter difficult to maneuver. You should also stay close to the side of the road so that you do not get in the way of traffic.
Injured in a Crash? Contact Earnhart Law
Whether dockless scooters make it to Delray Beach or not, there are still plenty of hazards on our roads and sidewalks. If you are injured, then reach out to an experienced Delray Beach personal injury attorney today.
Earnhart Law has obtained millions of dollars in compensation for our clients, and we can put our experience to work for you. To schedule a free case evaluation, please call 561-265-2220. We offer a free consultation.
Resource:
azcentral.com/story/news/local/tempe/2019/01/11/electric-scooter-accidents-reach-triple-digits-metro-phoenix-tempe/2503557002/
https://www.delrayinjuryattorneys.com/want-to-negotiate-your-own-settlement-think-again/