What if You Can't Identify a Dog Owner after a Dog Bite?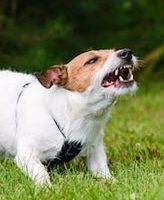 Dog bites can cause tens of thousands of dollars of damage. Fortunately, Florida law allows you to sue the dog owner for compensation to cover your financial and non-financial losses. If you are successful, you should not suffer any financial loss because of the dog bite.
But what happens if you can't identify the owner? After all, you might have encountered the dog out on the street and it is not obvious which house it came from. Fortunately, there are steps you can take to increase the chances of finding the dog's owner.
Document what the Dog Looks Like
A dog that has bitten you is probably aggressive, so we understand if you don't try to take it by the neck collar and start walking with it around the neighborhood. However, before the dog runs off, it would be very helpful to get at least a few pictures of the animal. Also write down what it looks like:
Breed (If you know)
Color
Size
Any distinctive features
Color of the collar (if any)
You can use these details to find the dog's owner.
Follow the Animal
Most dogs return home at some point, so you might have luck following it to see where it goes. Obviously, you need to prioritize your health, so treating your wounds and getting to the hospital should take priority over following an animal around town in the hopes that you find the owner. However, if a friend or family member can follow it while you get medical care, then that is certainly an option. Once the animal arrives home, note the address.
Ask the Neighbors
A dog probably didn't stray too far from home. You or a loved one can walk around the neighborhood and ask if they know who owns the dog. Take your pictures or, if you don't have pictures, your description. Ask if they know of anyone who has a dog that looks like the one that bit you.
Dogs that are aggressive tend to be aggressive, and the public will take note of dangerous dogs. Write down any leads and follow up. Send a friend to visit if you are too skittish of coming into contact with the animal.
Put up Posters around Town
If you don't have leads, then make a poster or flyer and put it up on the bulletin board at the library, grocery store, and other local businesses. Ask the public to contact you if they can identify the owner of a dog and include your picture or a description. Also include an email address, since some people hate talking on the phone.
Hire an Attorney
One of the benefits of hiring an experienced dog bite attorney is that we can perform an investigation to identify the owner, if necessary. At Earnhart Law, we represent the best interests of dog bite victims, and we can seek a favorable settlement on your behalf once the dog's owner or handler is identified.
Contact us today. You can speak with a Delray Beach dog bite lawyer by calling 561-265-2220. Initial consultations are always free.