Summer Road Trip Safety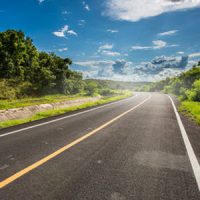 Road trips this summer will be a little different. For one thing, traveling to another state might require that travelers quarantine because of the COVID-19 pandemic. However, in many ways, traveling involves familiar hazards: car accidents, pedestrian injuries, and other accidents that can land you or a loved one in the hospital.
At Earnhart Law, our Delray Beach personal injury lawyers wish you a safe summer. We also want to provide the following tips that should allow you and your family to make your summer trip safely.
Create a Coronavirus "Safety Kit"
This great tip comes from Forbes, which recommends that people pack the following for their trip:
Disinfectant wipes
Rubber gloves
Face masks or coverings
Hand sanitizer
Bleach
Spray bottle
You never know when a store or other establishment will require that you wear a mask, so it is best to be prepared. You can also wipe down your car regularly using the disinfectant wipes.
Forbes also recommends packing a vacuum cleaner, air purifier, trash bags, hand soap, and clothes detergent to take with you. This way, you will not have to handle products that might have been touched by someone with the novel coronavirus.
Check Your Car & Get it Serviced, if Necessary
Having a car break down is a hassle in even the best of times. Depending on your location however, having the car break down could keep you stranded for a while. Some states are limiting who can stay in hotels due to the pandemic, so it might be hard to find a place to crash while your car is repaired. Have it checked and serviced before leaving on your trip.
The National Highway Traffic Safety Administration (NHTSA) recommends checking the following:
Tire pressure and tread wear
Lights and turn signals
Cooling system
Belts and hoses
Oil level
Brake and transmission fluids
Windshield wiper fluid
Wiper blades
Drive Safely
Drivers are in control and can minimize accidents if they want. This means staying fully alert and letting someone else check a GPS or cell phone if you are driving. Distracted driving is a hazard any time of year but especially in the summer, with its crowded highways.
Everyone in the family should also buckle up. This means young children should be in an age appropriate booster or child safety seat.
If you are traveling with pets, have them restrained for the duration of the trip, using a cage or a pet seat belt. A dog that jumps into the front of the car can surprise you and lead to a crash.
Also never drive while fatigued. This is a difficult thing for many people to avoid, especially on long trips. If necessary, break up your trip up into two days so that you have a night in the hotel. This is preferable to "pushing through," which could lead to exhaustion and driver error.
Share the Road
Many motorcyclists and cyclists are out on the roads in the summer. You must share the road with them just as you would another motor vehicle. Avoid tailgating and do not pass unless you clearly have enough room and time.
Delray Beach Car Accident Lawyers
If you were injured in a crash, contact the Delray Beach car accident attorneys at Earnhart Law today. We offer free consultations if you call us at 561-265-2220.
Resource:
nhtsa.gov/summer-driving-tips-2019
forbes.com/sites/petertaylor/2020/05/05/coronavirus-just-revived-the-great-american-road-trip-heres-how-to-stay-safe-save-money-and-social-distance-on-the-road-this-summer/#2b2ba07c4241
https://www.delrayinjuryattorneys.com/does-getting-into-an-accident-increase-your-insurance-premium/