Seven Injured, One Fatally, in SUV Rollover Crash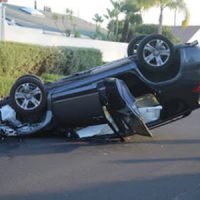 Rollovers are one of the most dangerous car accidents that a person can suffer. And a recent rollover on the Turnpike shows why motorists should take sensible steps to avoid one.
According to the Sun Sentinel, 7 teens were injured in a rollover crash on Sunday, January 19, 2020 around 5:00 pm. The accident happened in the northbound lanes of the Turnpike near Exit 81.
The seven teens were the only occupants of a Toyota 4Runner. The vehicle rolled over when it was on the entrance ramp to the northbound lane. Three passengers were ejected from the vehicle, probably because they were not wearing their seat belts. One 15-year-old boy was pronounced dead at the hospital, and many other occupants suffered injuries that ranged from minor to serious. According to police reports, the driver of the vehicle was 15-years-old as well, which means he was driving the vehicle illegally.
Are SUVs Particularly Vulnerable to Rollover Accidents?
Vehicles with a higher center of gravity are at risk of rolling over more than vehicles with a center of gravity closer to the ground. SUVs, because of their design, have historically been vulnerable to rollover accidents. This problem is compounded when motorists try to take turns at high rates of speed. Although we don't know all the details of the accident that killed the teenager on Sunday, it would not be surprising if the vehicle was travelling too fast on the on-ramp.
Early model SUVs, indeed, were more likely to suffer rollover accidents than other vehicles. However, according to Consumer Reports, safety improvements since the early 2010s have reduced the likelihood of a rollover. Indeed, newer model SUVs have a lower fatality rate from rollovers than the newer model passenger sedans. Nevertheless, drivers of all vehicles should take sensible precautions, such as driving at a regular rate of speed. As Consumer Reports notes, around 40% of fatalities involve speeding.
Why You Should Buckle Up
This is the most important safety tip when it comes to rollovers. A passenger wearing a safety belt will not be tossed around like other passengers, who can suffer injury when they strike an interior part of the car or another passenger.
In about half of all rollover fatalities, someone is fully or partially ejected from the vehicle. Once ejected, they can hit another vehicle, a tree, or the ground and suffer devastating injuries. So by wearing a seat belt, occupants are dramatically increasing the odds of surviving this type of accident.
Contact a Delray Beach Car Accident Attorney Today
If you or a loved one was injured in a rollover accident, you might be able to sue for compensation. In some cases, the design of the vehicle or a defective part will be to blame. In other cases, a negligent driver could have caused the rollover.
Reach out to Earnhart Law today. One of our Delray Beach car accident attorneys can meet with you for a free consultation and discuss the possibility of receiving compensation for your injuries. Please call 561-265-2220 today.
Resources:
sun-sentinel.com/local/palm-beach/delray-beach/fl-ne-seven-injured-rollover-turnpike-20200113-3euvsk6zxzcnrp7od2z4fbjg3q-story.html
palmbeachpost.com/news/20200115/fhp-ids-teen-killed-in-turnpike-crash-near-delray
consumerreports.org/cro/2012/02/rollover-101/index.htm
https://www.delrayinjuryattorneys.com/easter-bunny-involved-in-hit-and-run-has-been-caught/