Paying for Medical Expenses in a Pedestrian Accident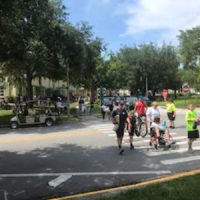 According to state statistics, more than 9,000 pedestrians were injured in collisions in 2018. Many of them sustained serious injuries, including head injuries, concussions, fractures, and abrasions or friction burns. Unfortunately, many victims were also unable to return to work as they tried to heal.
If you were injured in a pedestrian accident, you are probably worried about how to pay for your medical care, which can be prohibitively expensive. Our Delray Beach car accident lawyer reviews the most common options.
No-Fault Insurance
Anyone who registers a vehicle must carry at least $10,000 in personal injury protection insurance benefits, called PIP. This is no-fault insurance, which means that it does not matter who is to blame for the accident. A person covered by the policy can receive benefits regardless of fault.
PIP is also primary insurance. This means that injured victims should turn to their PIP coverage first before making a claim on the at-fault driver's policy. PIP will cover 80% of medical care and 60% of lost wages, up to the policy limit. Although you can purchase more than $10,000 in PIP coverage, most car owners neglect to do so.
PIP coverage often comes into play in pedestrian accidents. If you have a PIP policy, it will cover you even if you are injured as a pedestrian. So Karen might have a $10,000 PIP policy for her car. If she is injured walking to the grocery store, she can tap those benefits.
Also, the car owner is not the sole person covered by the PIP policy. It also covers a relative who lives with the owner. In our example, Karen's son or daughter could receive benefits under her PIP policy if either one is injured while walking.
What happens if you are not covered by a PIP policy? There is good news: the at-fault driver's PIP policy should cover a pedestrian injured in a crash.
Bringing a Liability Claim
Many pedestrians will have unpaid medical expenses, even if they use PIP benefits. With the increasing cost of care, $10,000 will not go very far. Someone with even moderate injuries might still have thousands of dollars in medical bills that need to be paid. In this situation, the victim could possibly make a claim on the driver's liability insurance. There are a couple of prerequisites, though:
The driver must be at-fault. This means the driver is more to blame for the accident than the pedestrian. Liability insurance is fault-based, so a pedestrian who bears a majority of the blame for an accident cannot make a claim on the driver's liability policy.
The pedestrian must suffer a permanent and/or significant injury. For example, they must lose an important bodily function, suffer significant disfigurement, or another permanent injury. The injury does not need to be catastrophic—like an amputation—but it must be significant.
Also, the motorist must carry liability insurance, which is not required in Florida. Meet with an attorney to review your options for making a claim.
Earnhart Law Can Help
Pedestrians face many hurdles to receiving medical benefits, including working through the maze of overlapping and conflicting insurance rules. We can help. Schedule a free consultation with Earnhart Law today by calling 561-265-2220.
Resource:
flhsmv.gov/traffic-crash-reports/crash-dashboard/
https://www.delrayinjuryattorneys.com/summer-road-trip-safety/