Jet Ski Accidents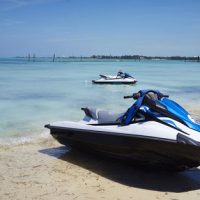 WCJB published a heart-warming story of a young woman's recovery from a jet ski accident. Kaitlin Alexander of Delray Beach was injured in June while riding a jet ski, and doctors were initially not optimistic about her chances of recovery. However, the University of Florida Gator was able to make a quick comeback, even after being denied visitation of her family due to the global pandemic.
This story is just one of hundreds involving individuals injured in jet ski accidents in Florida. If you need assistance, please contact one of our Delray Beach boating accident lawyers for more information.
Types of Jet Ski Accidents
Riding a jet ski is a fun activity, but riders can be injured in one of several different types of crashes:
The rider collides with some object, such as a dock, sand bar, or another jet ski
The jet ski flips over while being ridden
The rider makes some error due to inadequate training or instructions
The jet ski malfunctions, injuring the rider
The jet ski catches on fire, burning the rider
Any of these accidents could be fatal, since an injured rider could be thrown into the water to sink or swim. If the rider was knocked unconscious, then drowning is a real possibility unless the rider had on a life jacket.
Assigning Fault for an Accident
To obtain compensation, our Delray Beach personal injury attorneys need to identify the individual or entity responsible for the accident. If this person made an error due to negligence or recklessness, then we can bring a suit to receive compensation.
Some defendants could include the following:
Another jet ski rider who collides with our client
The jet ski manufacturer, if the ski was defective in design or manufacture
The jet ski rental company, if the ski was unsafe or if the company did not follow relevant laws related to jet skis
Many jet ski accidents stem from alcohol use. A person who is intoxicated can make simple errors, misjudge distances, and have delayed reactions. Unfortunately, many people like to combine alcohol with a day out on the water, and tragic accidents can result.
Suing a Manufacturer
If the ski had a defect, then it could be unreasonably dangerous to use and the manufacturer might be liable for compensation. We will want to see the ski to inspect it, since it is not always obvious whether a defect exists. Try to keep a receipt or other proof of which ski you rented or purchased so that we can track it down.
Manufacturers often defend these cases by claiming that our clients did not use the ski properly. Sometimes, this is a valid defense, especially where our client undertook dangerous maneuvers or was not properly trained on how to operate the ski. We will carefully review the circumstances to build a compelling case for our clients.
Need Compensation? We Can Help
Earnhart Law has obtained compensation for lost wages, medical care, and pain and suffering. Our team is adept at negotiating a settlement or even taking a case to court. Call us today, 561-265-2220, to schedule a free consultation.
Resource:
msn.com/en-us/news/us/uf-alumna-sees-fast-recovery-after-jet-ski-accident/ar-BB15mlMk
https://www.delrayinjuryattorneys.com/how-to-avoid-a-boating-injury-this-summer/