Hip Fractures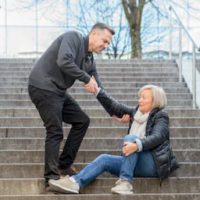 A hip fracture is a fairly common injury after a car accident or slip and fall. The hip plays a critical role in stability and mobility, and any injury can cause incredible pain. Hip injuries have a well-earned reputation for being some of the worst that a person can suffer, and hip fractures might be the worst injury of all. Injured victims are looking at several months of difficult recovery.
All this medical treatment is expensive, so please contact our Delray Beach personal injury attorney to review your options for compensation.
Signs You Have a Hip Fracture
Some of the more common symptoms of a hip fracture include:
Severe pain coming from the hip
Swelling in the hip area
Bruises on the hip
Inability to move after an accident
One leg being shorter than the other
If you suspect that you have a hip injury, immediately go to the doctor who can order tests to correctly diagnose a fracture. An X-ray or CT scan can provide a close view of the bones, which aid in diagnosis.
Complications with Hip Fractures
Many complications can be life threatening, so someone who has broken their hip should pay close attention to how they are feeling and contact a doctor right away. Many complications stem from the patient being immobilized for weeks or more. Doctors will try to get patients moving as soon as possible, but serious hip fractures can keep someone off their feet for months.
Some complications include:
Compression sores from being bedridden
Blood clots in legs or lungs
Pneumonia
Urinary tract infection
Some fractures will also cut off blood flow to the hip area, especially when the bone slices or presses against veins. Without immediate intervention, a patient could suffer serious loss of muscle and even bone.
Treating a Hip Fracture
The primary focus of treatment is to stabilize the broken bone to facilitate healing. Some patients need surgery where a doctor inserts screws, sometimes to a metal plate that runs the length of the femur. Surgery has many complications also, including a risk of infection, so this is not something a patient should take lightly.
Depending on the injury, some patients need a partial or total hip replacement. According to the Mayo Clinic, a total hip replacement is often a cost-effective option, especially for people who have been living independently. With a total replacement, the socket and upper femur are replaced.
Many patients will also need months of grueling rehabilitation to help them relearn how to walk, as well as pain management. Rehabilitation is a critical part of recovery, so patients should stick to any rehab plan closely so they can make as much improvement as possible.
Have You Suffered a Hip Fracture? Call Us
The expense and pain caused by a hip fracture warrant serious compensation? The lawyers at Earnhart Law have helped many people obtain money to cover their financial and non-financial losses. Please call our law firmat 561-265-2220 to schedule an initial consultation with a member of our team. We can meet you at home or at the hospital, if necessary.
https://www.delrayinjuryattorneys.com/another-fatal-brightline-train-accident/