Finding the Safest Car for Your Teen Driver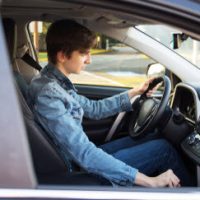 The day your child gets his or her driver's license is an important milestone. Already, your child will have one leg out of the door, even if moving out is a couple years away.
Parents definitely want their children to be safe, and for good reason. Collectively, teen drivers have a terrible safety record behind the wheel. In fact, car accidents are the leading cause of death for drivers age 15-19, who also cause a disproportionate amount of property damage in collisions.
If you are shopping for a new or used car for your child, you should make safety a priority. Read on for more tips.
Be Aware of Modern Safety Features
Newer vehicles come with many safety features that reduce the chances of getting into an accident. For example, cars have:
Collision warning systems. Using cameras and other technology, the car will alert the driver when they are too close to hitting an object. These warnings give drivers a chance to avoid the crash.
Rear cameras. What teen is good at parallel parking? With a camera, they can better see where they are navigating the vehicle.
Lane departure warnings. It is easy for a young driver to drift into another lane. Often, fatigue or alcohol use is to blame. With a lane departure system, the driver is warned so they have a chance to correct course.
Blind spot monitoring. This system will detect when something is in the blind spot and notify the driver, allowing them to avoid a collision. Blind spot monitoring is great for highway driving, when many teens don't know to check over their shoulder before moving into another lane to pass.
Of course, these safety features will cost you. Many parents want to get the cheapest car possible for their teen, and any old "beater" will do. However, if safety is a priority, consider splurging for a model that has some or all of these features.
Look at Crash Test Ratings
If a collision is unavoidable, you will want a car that can protect your child. Both the Insurance Institute for Highway Safety (IIHS) and the National Highway Traffic Safety Administration (NHTSA) run crash tests on popular models.
NHTSA in particular will give vehicles a five star rating for frontal crashes as well as for side impact and rollover accidents. The higher the safety rating, the better. You should look at ratings at both the NHTSA and IIHS websites.
Choose a Car with Airbags
The more airbags, the greater the chance that your child survives an auto wreck. Newer vehicles should have at least 6 airbags:
2 in front
2 in the front side
2 head-curtain airbags that extend into the backseat
Some manufacturers are also putting airbags in the back seat to protect those passengers. Air bags can prevent injuries during a collision by cushioning the passenger's body from making hard contact with the structure of the car.
Has Your Teen Been Injured? Contact Earnhart Law
We are a leading personal injury law firm that has helped countless Delray Beach car accident victims. If you have been injured, please reach out to us today. We extend compassionate legal guidance to all accident victims trying to overcome their injuries.
Please call 561-265-2220 to schedule a free initial consultation.
Resource:
cdc.gov/motorvehiclesafety/teen_drivers/teendrivers_factsheet.html
https://www.delrayinjuryattorneys.com/is-the-trailing-car-always-responsible-for-a-rear-end-collision/