Workplace Forklift Accidents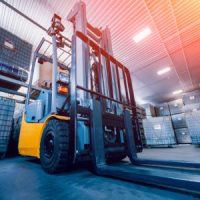 According to the Occupational Safety and Health Administration (OSHA), there are on average 110,000 forklift accidents every year in the United States that result in 95,000 injuries and around 100 deaths. When used properly, forklifts can reduce the strain on employees and boost productivity, but when an accident occurs with one of these vehicles in the workplace the results can be devastating. If you or a loved one has been hurt at work by a forklift you may have a claim for compensation. To learn more, contact the Delray Beach personal injury attorneys at Earnhart Law today to schedule a consultation of your case.
Common Types of Forklift Accidents
Workplace forklift accidents can be caused by inexperienced operators, negligent operation of the vehicle, an overload of cargo, and much more. Some of the most common types of forklift accidents reported in Florida and elsewhere include the following:
Forklifts overturning
Falls from a forklift
Crushing injuries by forklift accidents
Victims struck by material falling from a forklift, and more.
These accidents can injure the operator of the forklift as well as others around the vehicle when it is in operation, causing serious injuries.
Injuries Caused by Forklifts
The injuries caused by forklifts can vary based on the specifics of the case, but in workplaces that do not require hard hats and other safety gear when a forklift accident happens the results can be devastating. Even on construction sites, serious injuries can be caused by the negligent or reckless handling of a forklift vehicle. Some of the most common injuries include:
Traumatic brain injuries
Head and skull injuries
Spinal cord injuries
Facial trauma
Crushing injuries
Severe bone fractures
Amputation injuries
Internal organ injuries and bleeding
Nerve damage
Paralysis, and more.
Compensation for Workplace Forklift Accidents 
If a forklift accident happens in the workplace, an injured employee may qualify for workers' compensation. Benefits include medical bill coverage, wage replacement during and after recovery, permanent disability coverage, and death benefits. Workers' compensation also covers mileage for medical treatment and vocational rehabilitation for employees injured by forklifts who cannot return to regular work after the accident.
If a person is injured by a forklift at a worksite who is not an employee, they may be entitled to compensation through a personal injury claim. The employee and employer who hired them may be held liable for any injuries that result from a forklift accident. An injured worker may also be able to seek additional damages through a third-party personal injury lawsuit depending on who is involved in the case. To learn more about what your case might be worth, talk to our office today. 
Call or Contact Our Office Now
While forklifts can be handy vehicles in the workplace, when operated improperly the results can be catastrophic for accident victims. To learn more about your legal options after a workplace forklift accident, call our office in Delray Beach or contact us online at Earnhart Law to speak with an experienced attorney about your case.