Workplace Falling Accidents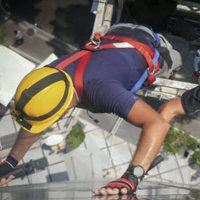 Falls are one of the most common types of workplace accidents that cause serious injuries and a number of fatalities every year. Are you or someone you know one of the many injured in a workplace fall? You may have a claim for damages under workers' compensation or a personal injury claim against those responsible. To learn more about your legal options in the Delray Beach area, call or contact Earnhart Law today to schedule a free consultation of your case.
Types of Workplace Falls
There are many different types of workplace conditions that can ultimately lead to a falling accident. The most common type of fall is from an elevated height, such as a roof, ladder, or scaffolding. Workplaces are supposed to have guardrails or nets to protect workers when operating at heights, but that is not always enough to prevent injuries. Another type of workplace fall is when a person falls into a hole or shaft that has not been properly marked or protected. Pier holes, holes in flooring, and excavation holes that lack covers or railings hurt many people every year. Finally, debris and unsafe surfaces also cause many falling accidents annually. Walkways should be clear to avoid a fall, but sadly this is not always the case on unsafe worksites.
Injuries Caused by Falling Accidents
The injuries caused by falling accidents at work can be catastrophic for victims and lead to a lifetime of disability and pain. Some of the most common injuries reported after a workplace falling accident include the following:
Traumatic brain injuries
Head and neck injuries
Facial trauma
Broken bones
Nerve damage
Internal organ damage
Spinal cord damage
Internal bleeding
Paralysis
Death
Given the severity of the injuries caused by workplace falls, it is critical that victims get the compensation they deserve after an accident to cover their medical expenses as well as provide for themselves and their loved ones during their recovery.
Compensation for Your Workplace Injuries
Compensation for a fall that takes place at a worksite can come in different forms. For employers who carry workers' compensation, an injured employee is entitled to workers' compensation benefits, including temporary and permanent partial disability, temporary and permanent total disability, medical expenses, and more.
If the fall happens to a victim that is not an employee, they may be entitled to damages through a personal injury claim. This includes all economic and noneconomic damages incurred by the fall, including medical expenses, lost wages, property damage, loss of future income and benefits, pain and suffering, emotional distress, disability, disfigurement, and for the loss of enjoyment of life.
Call or Contact Us Now
Have you or a loved one been involved in a workplace falling accident? If so, the knowledgeable Delray Beach personal injury attorneys at Earnhart Law are prepared to zealously advocate for the compensation you deserve for your injuries. To learn more about filing a claim after a workplace fall, call the office or contact us today to schedule a free consultation.
Resource:
nsc.org/work-safety/safety-topics/slips-trips-falls