Widow Sues Company over Husband's Death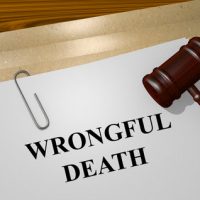 When a loved one is killed in an accident, surviving family members can often bring a wrongful death lawsuit. These cases are designed to obtain compensation from the person or entity who was at fault for the death. Wrongful death cases are civil, not criminal, so the defendant does not go to jail if found liable. However, wrongful death cases are often necessary to help surviving family members get the compensation they need to piece their lives back together.
The recent death of a pedestrian in Tampa is a good example of a wrongful death case. According to the Tampa Bay Times, George Williams Gage III was struck and killed by a worker for the Pinch A Penny pool supply company. The family has sued not only the driver but also his employer and other entities.
Driver Had a History of Addiction
According to allegations contained in legal documents, the pool technician who hit Mr. Gage, Benjamin Ehas, had a blood alcohol concentration (BAC) of 0.234 at the time of the accident. This is about 3 times the legal limit. Ehas lost control of his pickup truck, which jumped a curb and slammed into the 70-year-old victim.
When an employee is negligent, the employer is often vicariously liable for any damage the employee causes in the course and scope of their employment. However, the Gage family offered another legal theory—Pinch A Penny knew that Ehas was a drug and alcohol user, especially on the job, and should have taken appropriate action, such as suspending or firing him.
Indeed, another client had complained to Pinch A Penny about Mr. Ehas' behavior only days before the fatal crash. In that incident, Ehas fell asleep in a truck after working at a client's home. The client had to wake him up and saw that he appeared intoxicated. Under the family's theory, Pinch A Penny was negligent for allowing Ehas to continue to work for them and drive a company truck when they knew he had a drinking problem.
By his own admission, Ehas did drugs the day of the fatal accident and downed several alcohol beverages. With his BAC, he was clearly out of control and should not have been driving.
Defendant Faces Criminal Charges
Wrongful death lawsuits often proceed alongside criminal ones. Ehas faces second-degree felony charges for vehicular homicide and DUI manslaughter. If convicted, he could face 15 years in prison. His next court hearing is scheduled for early June and a trial will be months away.
If you lost a loved one in a vehicular accident, then you should hire your own attorney. At Earnhart Law, we can discuss whether to immediately file a wrongful death lawsuit or to wait until the criminal case is finished. This is the type of tactical decision that only an experienced attorney can advise you on.
Earnhart Law is here to help. We have successfully helped many grieving families bring these cases. Contact one of our Delray Beach wrongful death lawyers today by calling. Our consultations are free and confidential.
Resource:
tampabay.com/news/tampa/2020/05/05/widow-sues-pinch-a-penny-over-death-of-bayshore-jogger-hit-by-pickup-truck/
https://www.delrayinjuryattorneys.com/new-pedestrian-safety-bill-passes-the-florida-house/