Who Is Liable for a Rideshare Accident?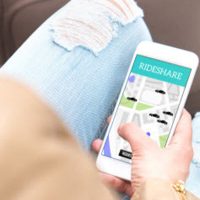 Rideshare companies like Uber and Lyft continue to grow in popularity in Delray Beach and other Florida cities. However, passengers can get injured in collisions just as they can in any other mode of transportation.
At Earnhart Law, we help injured passengers obtain compensation. Often, this means properly identifying the party at fault for the collision. If you were a passenger, then many different entities could be to blame. Our Delray Beach car accident attorneys are standing by to review your case.
Your Driver Could Be at Fault
If your driver was negligent, then he or she is at fault for the collision. For example, your driver could have made some mistake behind the wheel, such as backing up without using the mirrors, turning without signaling, or passing illegally. Any careless or reckless action could lead to a crash.
Your driver might also have failed to maintain the vehicle properly. For example, the brakes could have been acting up, but the rider did not take the vehicle to be inspected.
Your Uber or Lyft driver should carry insurance precisely for these types of accidents. Typically, the policies have high policy limits, which should provide ample compensation in most cases.
Another Driver Could Be at Fault
A different driver on the road could have crashed into your car and caused a wreck. For example, a driver might have run a red light and T-boned your Uber, or a motorist could have cut off your car and caused a collision. When these drivers are negligent or reckless, they bear legal responsibility for your injuries.
Insurance is sometimes complicated in these cases. Often, Florida motorists do not carry enough insurance to fully compensate our clients, who suffer sky-high medical bills. In this type of case, we might need to make a claim on the rideshare company's underinsured or uninsured motorist policy.
The Road Could Have Caused the Accident
Various road defects can cause crashes, including potholes, inadequate shoulders, and missing or obscured stop signs. The entity responsible for the road could bear legal responsibility for the crash. Often, this is a government entity or a company that contracts with the government. We strongly encourage you to meet with an attorney as soon as possible to untangle the legal issues involved when defective roadways contribute to a collision.
Multiple Parties Could Be at Fault
Florida recognizes shared fault, meaning more than one person could have contributed to an accident. For example, your Lyft driver could have made a left-hand turn without looking to see if the intersection was clear. At the same time, a driver ran a red light and the two vehicles collided.
Florida law recognizes that multiple parties could be to blame for your injuries. We can sue all relevant defendants.
Let Us Help You Obtain Compensation
Rideshare accidents raise many complicated factual and legal issues. Your choice of attorney can make all the difference between obtaining justifiable compensation or a fraction of what you are owed.
Contact Earnhart Law today at 561-265-2220. One of our Delray Beach car accident lawyers can meet with you for a free consultation.