Where Do Slip And Fall Injuries Happen?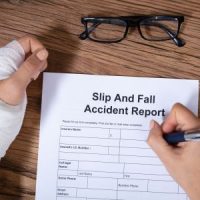 People stumble, slip, and fall every day. This is possible due to wet floors, cracked flooring, or poor lighting, for example. Injuries occur at grocery stores, when people are shopping at the mall, or when they are at their workplace. In many situations, the person who fell is able to get up on their own. They may have a bruise or two, but do not require medical care. But there are times when falls and trips lead to severe injuries requiring hospitalization or medical attention. Then, high expenses can follow.
Painful injuries are stressful enough, and worrying about the financial fallout from an injury can take time and energy away from your physical recovery. If you believe another is responsible for your slip and fall injury, have a lawyer work toward a full and fair settlement. While you heal, a Delray Beach personal injury attorney can investigate the injurious event and negotiate with insurance adjusters.
Slips, Trips, and Falls Can Prompt Personal Injury Claims
It is the responsibility of commercial property owners to maintain spaces that are safe for public use. When a property is not kept up and a person is hurt because of manager or owner negligence, claims and lawsuits can follow. Any or all of the following could lead to an injury and a personal injury claim:
Cracked flooring or pavement
Debris and trash cluttering walkways
Stairs do not have handrails installed
Carpeting has tears, rips, or inconsistencies
Areas that should be fully lit are not illuminated
Slippery spills are not cleaned up
This list is not comprehensive either, if you believe you should have been made aware of a danger or believe a property knew about a risk but didn't take steps to repair the issue, you could be eligible for financial compensation.
Securing Evidence to Prove Fault
It is not always easy to prove a property owner or manager was aware of a risk, but there are ways to strengthen your claim. For instance, filing an official report with the property itself and seeing a doctor right away is advised. Then, there will be clear documentation to support your need for financial recovery.
Navigating a personal injury case can be complicated, particularly when you are up against the legal teams of a commercial property group. Thankfully, there are professionals who can fight for your rights. Talk to a Delray Beach personal injury attorney who has the knowledge and experience you need as possible after your accident injury.
Is a pile of bills waiting for you after you slipped and fell at a Florida business? Connect with the knowledgeable attorneys at Earnhart Law in Delray Beach to understand your damage recovery options. It may be possible to secure an insurance settlement or lawsuit award that would pay off all of your accident expenses. You don't have to navigate the process on your own. Instead, talk to seasoned experts, the attorneys at Earnhart Law have been handling personal injury cases for over 30 years. To get started, call 561-265-2220 or contact us online.