What To Do After A Boating Accident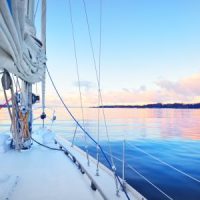 A boating accident can be a scary and traumatic experience, but knowing what to do after a boat crash can be critical in minimizing injuries as well as protecting your personal injury claims. At Earnhart Law, our experienced Delray Beach boat accident lawyers have successfully represented many clients involved in boating accidents and are prepared to fight for the compensation you deserve. To learn more, call or contact our office today to schedule a free consultation.
Assess Medical Needs
The first step after a boating accident is to assess the medical needs of everyone on board. Take a headcount and ensure that everyone is accounted for, and then determine their medical needs. If someone needs immediate medical attention, it is important to get back to land as quickly as possible. Contact emergency services while on the way so that medical personnel can be present when the boat docks.
Even if you believe that your injuries are minor, it is important to seek immediate medical attention for a couple of reasons. First, it allows a medical professional to diagnose and begin treatment of your injuries. Some serious injuries like traumatic brain injuries, near drowning, and internal injuries may not have immediately recognizable symptoms but do require immediate care. The second reason is that seeking immediate medical treatment creates contemporaneous documentation about the extent of your injuries immediately after the accident. This is often compelling evidence in a later personal injury case and can mitigate attempts by the insurance company to minimize your case.
Get the Vessel Out of Harm's Way
The next step after a boat accident is to get the vessel out of harm's way if possible. If the boat has capsized this may not be possible, but if the boat is upright it is important to move it out of the way of other vessels or obstacles in the water that may cause additional harm. This is also dependent on whether there is someone on board the vessel that is healthy enough to operate the boat without causing additional accidents or harm.
Gather Evidence
Gather as much evidence as you can about the boating accident, including photos and videos of the scene of the accident, the extent of the injuries, time of day, weather conditions, and anything else that may be helpful to your case. Collect the contact information of witnesses who saw what happened, as their testimony may be critical to a later claim.
Talk to a Boat Accident Lawyer
Finally, speak with a qualified and experienced boat accident attorney about your case. An attorney can protect you against unscrupulous insurance adjusters and ensure that you receive nothing less than the full and fair value of your case. They handle the legal claims so that you can focus on your recovery. To learn more, talk to our office today.
Call or Contact Us Now
If you or a loved one has been injured in a boating accident around Delray Beach, call or contact Earnhart Law today to schedule a free consultation.