What Is A Wrongful Death Lawsuit?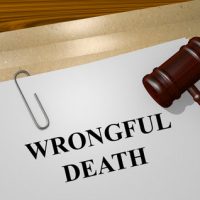 The loss of a loved one is never easy, but when that loss is unexpected because of an accident it can be even more devastating for the victim's family. This grief can be compounded by unexpected financial burdens caused by the loss, which is where a wrongful death lawsuit may be able to help. While money can never replace a beloved family member, it can help ease other strains and an experienced Florida wrongful death attorney can help you secure the compensation you deserve a fatal accident. At Earnhart Law, our Delray Beach wrongful death attorneys are prepared to advocate for your needs in a wrongful death case. Call or contact us today to schedule a free consultation.
What is Wrongful Death?
Under Florida law, wrongful death is defined as the death of a person caused by the wrongful act, negligence, default, or breach of contract by another person or entity. Wrongful death can be caused by negligence, recklessness, or the intentional acts of others. Another way to look at wrongful death is that, but for the fatal nature of the accident, the victim would otherwise be able to file a personal injury claim for damages. However, since the accident is fatal for the victim, the family brings a lawsuit for damages on their behalf.
Who Can File a Claim?
Only certain people are allowed to file a wrongful death claim. In Florida, the law requires that the personal representative of the victim's estate file a lawsuit for damages on behalf of the victim's estate and for the victim's family members. Family members that are allowed to receive compensation for a loved one's death include the victim's living spouse, children, parents, and any blood relative or adopted sibling that was dependent on the deceased for support.
It is also important to note that there are time limits on when a wrongful death claim can be filed after a fatal accident. Known as the statute of limitations, a wrongful death claim must be filed within two years of the date of death of the victim, with a few exceptions. If the lawsuit is not filed in that time, the court can throw it out and ban the collection of any compensation.
Compensation for Wrongful Death
Wrongful death compensation falls into two categories: damages for the estate and damages for surviving family members. Damages for the estate include compensation for lost wages, benefits, lost prospective accumulations of value, any final medical expenses for the victim, and funeral and burial costs. Damages for the family include compensation for the loss of support and services, loss of companionship and guidance, mental anguish, and any expenses paid out of pocket by a family member associated with the accident.
Talk to Our Office Now
If you have more questions about filing a wrongful death claim after the unexpected loss of a loved one, the experienced lawyers at Earnhart Law are here to help. Call the office or contact us now to schedule a free case consultation with one of our wrongful death attorneys now.
Resource:
leg.state.fl.us/Statutes/index.cfm?App_mode=Display_Statute&URL=0700-0799/0768/0768.html