What Is a Bad Faith Insurance Claim?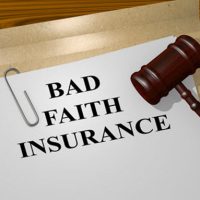 If you've ever experienced an injury or suffered damages due to an accident, you have likely turned to your insurance company to provide the financial support they promised you after years of making prompt premium payments. But while many insurance claims are settled quickly and completely, there are other situations where policyholders find themselves facing unexpected challenges when dealing with their insurance companies.
One big challenge to recovery is bad faith insurance claims. Basically, a bad faith insurance claim is when an insurance company fails to fulfill its contractual obligations to its policyholder. If you believe you have been mistreated by an insurance company, talk to a Delray Beach personal injury attorney about next steps. Insurance companies are contractually obligated to act in good faith when handling claims, meaning they must fairly and promptly investigate, process, and pay policyholders' valid claims.
Unreasonable Denial and Failure to Investigate
All insurance policies are contracts, the basis of the agreement is that the policyholder pays premiums in exchange for the insurer's promise to provide financial coverage in the event of a loss. After a qualifying event, if the insurance company unreasonably fails to pay, delays, or undervalues a legitimate claim, it breaches this contract. This breach of contract is commonly referred to as a bad faith practice.
For example, if an insurer denies a claim without conducting a thorough investigation or providing a valid reason for the denial, and the claim is valid, that is an unreasonable denial. The injured party should then talk to an attorney about next steps. Additionally, if an insurer unnecessarily delays the investigation process, resulting in undue hardship for the policyholder, or the insurer overlooks crucial evidence or misinterprets facts to avoid paying a valid claim, you can take legal action.
Protecting Your Rights and Talking to an Injury Attorney
As a policyholder in Florida, you have state protected rights. Florida law has clear expectations for insurance companies to act in good faith when dealing with claims and policyholders, but dealing with a bad faith insurance claim can still be a complex and frustrating process.
It is a fact that insurance companies have teams of experienced adjusters and attorneys working to protect their interests, so you should take steps to protect your rights and shield your financial future from loss. Reach out and share your story with a Delray Beach personal injury attorney.
Then, your attorney can review your insurance policy, gather evidence, and assess the full extent of your damages. With documentation in place, they will contact the insurance company on your behalf and demand fair compensation for your injuries and losses. If necessary, a lawyer can take the issue to court.
Is it time for you to stand up to your insurance company? If you were injured in an accident and are now feeling overwhelmed, exploited, and uncertain about your future because your insurance company has denied or reduced your claim, talk to a professional. With over 30 years of experience, the lawyers at Earnhart Law can help. To schedule your consultation, call 561-265-2220 or contact us online.