What If I Was Injured Because a Product Was Defective?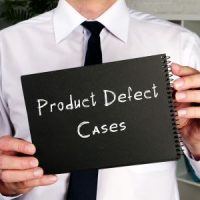 A range of products are part of daily life, from appliances to vehicles, and when you use a product you are doing so with the expectation that the product is safe and reliable. While this is usually true, sometimes defective products find their way into the market.
After sustaining an injury due to a defective product in Florida, it's important to understand your rights and potential avenues for seeking compensation. To do this, connect with a skilled Delray Beach personal injury attorney. Ask them to shed light on different types of defective product claims and assess whether you have a valid path to compensation.
Not All Defective Product Claims Are the Same
While a defective product claim is possible if you have been injured, the type of claim you will file and the amount of compensation you will be eligible to receive will depend on the nature of your injuries and the specific circumstances of your case.
Design defects. When a product is inherently flawed due to its design, all produced units are potentially dangerous. To pursue a design defect claim, you must prove that the product's design was inherently unsafe and that a safer alternative should have been available to the public.
Manufacturing defects. If a product is properly designed but there was one mistake or a series of errors that occurred during the manufacturing process, a manufacturing defect claim could be in reach. For a successful claim, you must demonstrate that the specific product you used was different from the intended design, and this difference caused your injury.
Inadequate information provided. Failing to warn the public of possible risks or not providing adequate instructions can lead to public harm, even when a product is well-designed and manufactured. Companies have a responsibility to provide clear information and instructions.
When you meet with an attorney and share the details of your injury, they can advise you on next steps. For example, if you purchased a lawnmower and there were no instructions that explained the danger of mowing on steep slopes and you were injured in an accident when mowing a steep area, you may have grounds for a failure-to-warn claim.
Compensation for Injuries Caused by Defective Products
If a defective product caused your injuries, you may be entitled to compensation for various damages, such as medical expenses, wage loss due to time off of work, property damage, and the need for a replacement product.
Consult with a skilled Delray Beach personal injury attorney who has the experience in navigating defective product claims. Seasoned lawyers can help you navigate the legal process and will fight to secure the compensation you deserve.
Should you be compensated for losses connected to a defective product? Remember that manufacturers and sellers have a responsibility to provide safe products, and if they fail to do so, you have the right to seek justice and compensation. With over 30 years of experience, the lawyers at Earnhart Law can guide you through the recovery process. To schedule a no-cost consultation, call 561-265-2220 or contact us online.