Wet Weather And Motorcycle Safety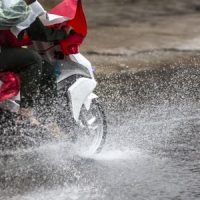 There is often wet weather in Florida, particularly from the beginning of summer through the fall. Most acknowledge the height of storm season as happening August through October. It is important for everyone to listen to weather forecasts and take steps to keep themselves and their families safe. And motorcyclists need to recognize increased weather risks when they are deciding to go for a ride, or not.
Learn about wet weather precautions you can take, as a motorcycle operator, to shield yourself and your bike passengers from accident injuries. And if an accident does occur, connect with a Delray Beach personal injury attorney to explore your damage recovery options.
Investing In Rain Gear and Knowing Your Route
Because many motorcycle operator's experience discomfort when riding in the rain, they invest in rain gear. And doing so can help to keep you safe as well. Rain suits will keep you dry, so you can focus on navigating hazardous conditions. Wet roads can lead to hydroplaning and cycle operators have to do what they can to maintain control of their bikes.
Additionally, hurricane season is not the time to be on unfamiliar roads. Familiar paths means you will know your route, including areas that may have hazards of other issues to navigate. If you know the risks, you can respond and react with assurity.
There are also people who decide the storm season is simply not the best time to enjoy their motorcycle. For these individuals, storing your bike properly is essential to protect your investment and be sure your motorcycle is in good shape when you decide to take your bike out for a ride during the dry season. This means keeping your bike elevated, if possible, so the bike will not be impacted if a garage or other storage area floods. Additionally, cover up the motorcycle so it is shielded from dust, scratches, and debris. And extra protection could be added to exhaust areas, in the event of water making contact with the bike.
Talk to a Talented Florida Motorcycle Attorney
Accidents involving Florida motorcycles can lead to a lot of different expenses. If you are receiving bills that are much higher than you can afford and you believe another is responsible for your accident injuries, reach out and bring your questions to the attention of a Delray Beach personal injury attorney. Florida residents and visitors enjoy beautiful, sunny days, most of the time. But for the health and safety of yourself and your family, it is also essential to be prepared when storms hit.
Are you recovering from a Florida motorcycle accident injury? Connect with a knowledgeable personal injury lawyer to learn about your monetary recovery options. Reach out today and get the support of the seasoned attorneys at Earnhart Law in Delray Beach. Our legal professionals have over 30 years of experience handling personal injury cases, we know how to secure a maximum amount for you and your family. To get started, call 561-265-2220 or contact us online.