Was Your Child Injured at Daycare?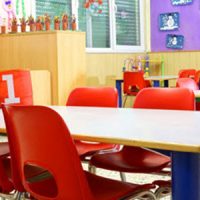 Many people use daycare providers to watch their children as they work or go to school, and parents want to enroll their children in daycares that are safe. Unfortunately, many children can be injured, sometimes quite seriously.
At Earnhart Law, we explain to parents their rights following a daycare accident. We can identify whether you can sue and help you make a claim for compensation. Speak with a personal injury attorney today.
How Children Can Be Hurt at Daycare
Some daycares make the news when staff are caught abusing or terrorizing children. These injuries are not "accidental" but the result of intentional misconduct on the part of staff. Children can suffer traumatic injuries, including contusions, sprains, abrasions, and fractures.
Other injuries are the result of the daycare's negligence, such as allowing a dangerous condition to exist on the premises. Children can be burned by hot liquids or foods, or trip and fall on defective carpeting or debris on the floor. Accidental injuries like these can be just as serious as intentional ones. When children fall off playground equipment, for example, they can break bones and suffer brain injuries.
Still other children suffer injuries when attacked by another child. Although they are young, children can cause serious injuries when they shove children off playground equipment or strike them with rocks or other objects.
When you receive a call from the daycare, you might have no idea how your child was injured. You might also struggle to get straight answers from the daycare. This is when an experienced attorney is helpful.
Legal Liability for a Daycare Accident
The first question we ask is whether the daycare shares some liability for your child's injuries. There are many situations when they do:
The daycare failed to adequately supervise children at all times.
The daycare neglected to perform necessary background checks on staff or fire/discipline staff that pose a threat to children.
The daycare allowed a hazard to exist on the premises, such as dangerous playground equipment or power cords that crisscross the floor.
Staff prepare dangerous foods or drinks that injure your child, such as letting soup get too hot.
The facility did not employ enough staff, and understaffing led to a lack of supervision.
There are many legal theories of liability that we can use, such as premises liability or negligence. Each case is different, so the theory must fit the facts known.
The Effect of Waivers on Your Personal Injury Case
Daycares often try to protect themselves by getting parents to sign liability waivers. These legal clauses state that the daycare is not responsible when children are injured on their property. Many parents are worried that these waivers will prevent a lawsuit, but these fears are overblown. If staff abused or neglected your child, then many judges will allow cases to proceed.
Building Your Case
To succeed in a claim, we need to show that your child was enrolled in the daycare, which would create a duty to use reasonable care to protect your children. We can also question daycare staff about the incident and visit the facility to take pictures or document any hazards.
Suing a daycare is never easy, but the Delray Beach personal injury lawyers at Earnhart Law have cut our teeth on some of the most complex cases around. To schedule a free consultation, call us at 561-265-2220.
Resource:
wsfa.com/2020/08/28/prattville-day-care-employee-charged-with-child-abuse-facility-cited-with-dozens-deficiencies/
https://www.delrayinjuryattorneys.com/are-second-degree-burns-serious/