Tubing Injuries And Boating Claims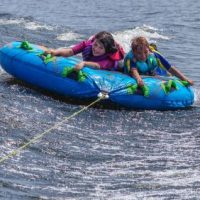 Boating is a popular recreational activity throughout Florida, and Palm Beach County is no exception. There are plenty of boaters in the area, offering residents and visitors the chance to enjoy the beautiful waterways of the region. One of the activities Florida boaters enjoy is tubing, when a tube is tethered to a watercraft and tubers are towed through the water. While there are wonderful tubing memories for many Floridians, it is also a reality that accidents can occur.
If you are considering moving forward with a boating claim but you aren't sure how much your claim is worth or how to start the process, connect with a Delray Beach personal injury attorney. A skilled lawyer can provide you with legal support and will help you secure a full and fair compensation amount to cover all of your injury expenses.
Staying Safe on the Water
Boating safety should always be a top priority when enjoying Florida's waterways as avoiding accident injuries is far better than coping with the process of injury recovery.
Here are 5 essential boating safely guidelines to follow:
Wear a life jacket. Everyone participating in a day out on the boat should be wearing a life jacket, including tubers. All of the jackets worn should be U.S. Coast Guard approved.
Follow boating regulations. Take time to be aware of all of Florida's boating laws, such as speed limits, navigation rules, and restrictions on alcohol consumption. Then, follow boating laws to the letter.
Maintain your equipment. Before heading out, look over your boat and towing equipment, including tubes, ropes, and harnesses, to be sure everything is in good working condition.
Take note of the weather. While checking the weather in the days previous to your boating date is important, also check the forecast before setting out as considerations may have changed. If there are storms or severe weather in the forecast, postpone your trip.
Practice safe towing. Designate someone on the boat to be a designated observer when people are riding tubes. Monitoring tubers means the riders can maintain a safe distance from other vessels, docks, and swimmers.
Educate yourself before deciding to operate a boat or participate in a tubing excursion. For example, you may want to take a boating or water safety course to enhance your knowledge on how to stay safe on Florida waterways.
How a Lawyer Can Help After a Tubing Injury
In the unfortunate event of a tubing injury or any other water-related accident, consult with a Delray Beach personal injury attorney who has experience in personal injury law and boating accidents. Then, you will have a legal professional on your side who understands the intricacies of water injury claims and can provide you with expert guidance throughout the legal process.
What expenses do you have as a result of a tubing injury? Boating accidents and tubing injuries can have devastating consequences, both physically and financially, but with over 30 years of experience the lawyers at Earnhart Law can advise you on your injury recovery options. Call 561-265-2220 or contact us online to schedule your no-cost consultation.