Tire Blowout Accidents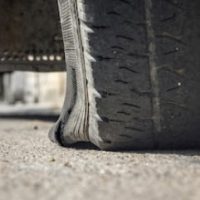 A tire blowout can happen in the blink of an eye, and no one expects their tires to blow out while they are driving. Tire blowouts are one of the most common causes of car accident injuries and fatalities, causing hundreds of deaths every year and injuring thousands more in the United States. If you or someone you know has been injured in a car accident because of a tire blowout you may have a claim for damages to compensate for the injuries caused in the crash. To learn more about your legal options, call or contact Earnhart Law today to speak with one of our dedicated and experienced Delray Beach personal injury attorneys.
How Does a Tire Blowout Occur?
A tire blowout happens when a tire sustains so much damage that a rupture occurs, and it loses its air all at once. The vehicle immediately becomes more difficult to control and often results in an accident. This can occur when the driver slams their brakes and gets struck from behind or if the driver cannot control the vehicle, and it crashes into other vehicles or objects on the road. One of the most dangerous aspects of a tire blowout is that there is little to no warning that it is about to occur. Before losing control of the vehicle, the only sign that a tire blowout occurs is a loud "bang" when the failure happens.
A tire blowout can be caused by many different things, and a variety of factors have been known to cause this type of accident. Some of the most common causes of a tire blowout include the following:
Potholes,
Under inflated tires,
Overloading of a vehicle,
Repeated, small puncture damage,
Fast slicing damage to the tire, and
Defective tires
Who is Liable for a Tire Blowout Accident?
In most cases, the driver of the vehicle is held liable in a tire blowout accident. This is because insurance companies put the onus on the driver to regularly check and maintain their tires to prevent blowout accidents. However, there are others that may also be held liable in a blowout case. If another vehicle spilled something on the road that leads to a tire blowout, they may be held responsible for any accidents that result. There may also be others responsible for tire blowouts if the accident was caused by a defect in the tire. In that case, the tire manufacturer or dealer may be ultimately responsible depending on where the defect occurred in the manufacture, distribution, and sale of the tire that caused the accident. To learn more, talk to our office today.
Talk to Earnhart Law Now
Have you or someone you know been injured in an accident caused by a tire blowout in the Delray Beach area? If so, you may be entitled to compensation for your injuries. If you are interested in speaking with an experienced and knowledgeable personal injury lawyer about your case, call or contact the office of Earnhart Law in Delray Beach now for a free consultation.