The Importance of Good Records in a Personal Injury Lawsuit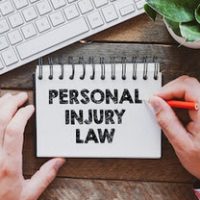 After an accident, you might feel intense pain that makes it hard to sleep or do anything at all. In this frame of mind, the last thing you want to think about is your lawsuit. However, the keys to receiving compensation after an accident is keeping good records and hiring the right Delray Beach personal injury lawyer.
At Earnhart Law, we have helped countless victims receive compensation when someone else's careless or negligent conduct injures them. Although we can do most of the heavy lifting for you, our clients still need to keep thorough records.
Carefully Document Your Expenses
After a car or other accident, you can typically receive full compensation for medical expenses, lost wages, and property damage. These economic losses are relatively easy to calculate because you will have a bill, repair estimate, or receipt.
However, you need good records. For this reason, follow these tips:
Hold onto everything. You never know what will be important later on.
Find a giant folder and stuff all bills and receipts into it. At a later date, you can go through and put things in some sort of order, but it is key that you hold onto all receipts.
If you lost a bill or receipt, quickly reach out to get a substitute or duplicate.
If you pay with a credit card, also keep your credit card statements which can show how much you spent.
On the back of a receipt, write what it is for. For example, if you bought prescription drugs, note the type of drug on the back.
Request Your Medical Records
Write down the name and location of every hospital, doctor, or other medical professional you met with for injuries you sustained in an accident. Some people forget who they met with. For example, did you visit a dentist to discuss pain in your jaw? Might the pain be caused by the car crash you were in? It's best to write down the name, date, and time of your appointment.
You can either request medical records from every provider yourself or have your Delray Beach personal injury lawyer request them for you. However, we need to know who you met with before we can adequately secure medical records.
Preserve Communications
You should hold onto all emails, texts, letters, and phone messages from:
Anyone involved in the accident
The lawyer representing anyone involved in the accident
Any insurance adjuster
The police
Any witness to the accident
If you had a phone conversation, document the date and time of the call. Also summarize the substance of the conversation. These notes can be persuasive evidence of what you discussed.
Injured in a Crash? Earnhart Law is Here for You
Whether you were injured in a car crash, slip and fall, or dog attack, we can help. Our Delray Beach personal injury lawyers at Earnhart Law are skilled and experienced and will do everything possible to get you the compensation you need to recover from your injuries.
For a free consultation, please call 561-265-2220. We have over 30 years of experience.