The Differences Between Personal Injury And Wrongful Death Claims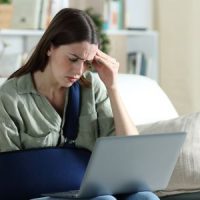 Personal injury and wrongful death claims both serve to provide compensation after a serious accident; however, there are important distinctions between these two types of lawsuits that can make a critical difference in whether a victim or their loved ones can collect compensation, which is where a knowledgeable Florida attorney can help. At Earnhart Law, our team of dedicated Delray Beach personal injury attorneys is prepared to answer all your questions about personal injury and wrongful death claims. To learn more, call or contact us today to schedule a free case consultation.
Statute of Limitations
One of the most significant differences in personal injury and wrongful death claims is the amount of time allowed to file a lawsuit, known as the statute of limitations. Under Florida law, the victim of a personal injury claim has four years from the date of the accident to file a lawsuit for damages. However, the family of a deceased victim in a wrongful death lawsuit only has two years from the date of death to file a claim. Failing to file a lawsuit within the statute of limitations can result in the court throwing out the case entirely and barring any type of compensation.
Compensation
Another difference between personal injury and wrongful death claims is in the compensation for the case. Personal injury lawsuits compensate the victim for their economic and noneconomic losses. The victim is paid directly for their medical bills, lost wages, property damage, pain and suffering, emotional distress, disability, disfigurement, and loss of enjoyment of life.
In a wrongful death lawsuit, compensation is recovered on behalf of the victim's estate and the decedent's survivors instead of the accident victim personally. The estate can collect damages for any final medical bills, funeral costs, lost wages, and burial costs. The decedent's survivors can claim damages for the loss of love, support, guidance, counsel, and companionship. The victim's estate representative files the claim on behalf of both the estate and the survivors in a wrongful death case.
Co-Existence
Finally, Florida law does not allow a personal injury claim and a wrongful death claim to co-exist for the same victim and the same act. In some cases, an accident may cause a person serious injuries, and a personal injury lawsuit is filed. If that person later dies from their injuries, a wrongful death lawsuit may be filed, but the personal injury claim is no longer valid. An experienced attorney understands these types of intricacies in the law and can ensure that claims are managed properly in the Florida courts. To learn more, talk to an experienced Florida personal injury and wrongful death attorney today.
Call or Contact Our Office Now
If you or someone you know has more questions about the differences between a personal injury and wrongful death claim in the Delray Beach area, the knowledgeable attorneys at Earnhart Law are here to help. Call the office or contact us today to schedule a free consultation and learn more about your legal options now.
Resource:
leg.state.fl.us/statutes/index.cfm?App_mode=Display_Statute&URL=0700-0799/0768/Sections/0768.21.html