Seeking Recovery After A School Injury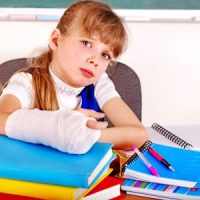 There are a lot of ways that kids and adults can be injured at school. Sometimes injuries happen on a bus and in other situations the harm is sustained on a playground at recess. While minor injuries are common and can be tended to promptly and within the school building, serious injuries require medical care.
If you believe another person or party is liable for a Florida school injury, connect with a Delray Beach personal injury attorney. There are specific rules and special procedures that need to be addressed when moving forward with a personal injury claim against a school. This is particularly true if the school is public and part of local government.
Different Types of School Injuries
Determining if another was negligent can take time and research. It is not always immediately clear if an injury could have been avoided or the harm could have been reduced. For example, it is widely accepted that playground injuries happen from time to time, but if an injury is more severe because there was pavement rather than rubber ground cover to cushion falls, that could lead to a level of liability.
Examples of school injuries that have led to claims:
Slip, trips, and falls on playgrounds
Harm sustained on staircases
School bus accidents and parking lot injuries
Environmental illnesses and food poisoning
Sport injuries
Each situation is unique. Share the details of your situation with a Delray Beach personal injury attorney to learn about possible ways to secure compensation.
How a Personal Injury Lawyer Can Help After a Miami School Injury
While you may receive a resolution to the problem from the school, it is important to understand they are following their own protocol, not necessarily what is in your best interests. Talking to a skilled lawyer means you will have a legal professional advocating for what you need.
Injuries can be physically painful and emotionally distressing. And if that weren't enough, there can be a lot of financial stress as well. Many individuals can't afford high medical fees and loss of income when they take time off of work to heal properly.
To protect your rights and your financial future, have a Delray Beach personal injury attorney look over the details of your case. When an unsafe condition led to harm, holding the person or party accountable could shield another from future harm. Taking action could result in conditions being improved and you receiving financial recovery to cover your injury expenses.
Are you seeking legal guidance after a school injury? Connect with the qualified attorneys at Earnhart Law. Before agreeing to any settlement, have an experienced legal team assess your documentation and determine if more evidence is necessary to access a maximum settlement amount. Our skilled lawyers have been protecting the rights of personal injury clients for over 30 years and will fight for your rights. We know how to negotiate with insurance companies and other lawyers to get your accident expenses covered. Call 561-265-2220 or contact us online to schedule your no-cost consultation.