Protect Your Children from Defective Highchairs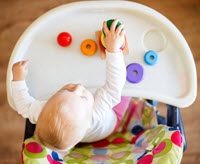 Recently, Graco issued a recall for their popular highchair sold exclusively through Walmart. Consumers who have purchased the highchair should immediately stop using it and call 800-345-4109 for a free repair kit. Walmart sold about 36,000 chairs in the United States and an additional 3,000 in Canada. With luck, the chair will not cause an injury to your child, but if it does, you might be entitled to compensation.
Defective Highchairs
Graco recalled its highchair because the rear legs could pivot out of position, rendering the chair unstable. As a result, the chair could tip over, slamming your baby into the ground. Other highchairs could be unreasonably dangerous for other reasons:
Insufficient restraints fail to prevent your child from sliding out and onto the floor
Poor design increases the instability of the chair
Inadequate locking mechanisms cause folding chairs to collapse
Generally, highchairs will be defective either in design or in manufacture. When there is a design defect, you will see problems across the entire product line. Conversely, when there is a manufacturing defect, only a handful of chairs will have a problem.
Highchair Injuries
If the chair collapses, or if our child slides out and falls to the floor, they can suffer serious injuries. For example, some children suffer:
Broken bones
Bruises
Cuts or scrapes
Head injuries
Parents should pay particular attention to early signs of a concussion or other traumatic brain injury. Because your child is probably too young to talk, you will need to closely monitor your child for any emerging symptoms. If you note any of the following symptoms of a concussion, contact your doctor right away:
Your baby cries when you move their head
Your baby's sleeping habits have changed
Your baby is irritable
Your baby begins vomiting
There is a bump or bruise on your baby's head
Toddlers have additional symptoms, which they might be able to tell you about:
Headache
Changes in behavior
Changes in sleeping patterns
Excessive crying
Lethargy and loss of interest in hobbies
Concussions are serious injuries and require immediate medical treatment, so take your child to the doctor or emergency room. Remember to follow your doctor's advice and contact the doctor if your child does not seem to be improving.
Suing for Financial Compensation
Children injured by defective products have rights to financial compensation for their injuries. For example, you might be able to bring a products liability lawsuit against the manufacturer if the highchair had a defective design or manufacturing defect.
You can also sue other parties who moved the highchair along the chain of distribution, including:
Distributors
Wholesalers
Retail sellers
If the chair is defective, and if the defect caused your child's injuries, then these parties are "strictly liable," meaning they can't defend themselves by claiming they were sufficiently careful.
Speak with a Delray Beach, Florida Products Liability Attorney
Parents expect highchairs to protect their children, not injure them. When a product fails to act as expected, you might feel anger or betrayal. At Earnhart Law, our attorneys help worried parents get the compensation they need to pay for their child's medical expenses and pain and suffering. Contact us today for a free consultation with one of our lawyers.
Resource:
cpsc.gov/Recalls/2018/Graco-Recalls-Highchairs-Due-to-Fall-Hazard-Sold-Exclusively-at-Walmart