Premises Liability For Florida Amusement Parks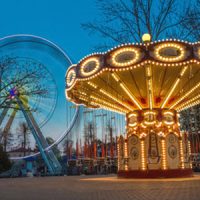 Florida is one of the top destinations in the world for amusement parks, and millions of people visit these amusement parks every year. Amusement park owners have an obligation to keep their premises safe for visitors, and if they do not they may be liable for any injuries that result in a premises liability case. If you or someone you know has been hurt on the premises of an amusement park, the experienced personal injury lawyers at Earnhart Law in Delray Beach are here to help. Call the office or contact us today to schedule a free evaluation of your injury claims now.
What is Premises Liability?
Premises liability is an umbrella term used to describe a type of personal injury claim that arises from hazardous conditions on another person's property. Property owners and occupiers, including those that own or operate amusement parks, have a duty to maintain and inspect their premises for dangerous conditions that could injure guests. Because visitors are paying for the privilege to be on the property, amusement park owners owe the highest duty of care to their guests. This means that an amusement park in Florida could be held liable for any injuries that result from an accident on the premises caused by hazardous conditions that the property owner knew or should have known about and failed to warn visitors of the potential danger.
Common Causes of Amusement Park Accidents 
When an amusement park owner fails to maintain and inspect their premises on a regular basis, serious accidents can occur that can seriously injure their guests. Some of the most common causes of premises liability claims at amusement parks include the following:
Mechanical failures on amusement park rides,
Inadequately trained amusement ride operators,
Inadequate amusement park security,
Failure to maintain amusement park rides,
Food poisoning,
Swimming pool and waterpark accidents,
Slip and fall accidents,
Trip and fall accidents,
Animal bites, and
Hotel accidents
These types of premises liability accidents can lead to severe injuries that require substantial medical treatment, lost time at work, and considerable pain and suffering for accident victims. A knowledgeable personal injury attorney will be able to review the details of your case and provide quality legal advice on what your case might be worth.
Compensation for Injuries 
Compensation for premises liability accidents that occur at amusement parks in Florida include damages for economic and noneconomic losses incurred by the accident victim. Economic damages refer to the victim's out of pocket costs, such as medical expenses, lost wages, property damage, and the loss of future income and benefits as a result of their injuries. Noneconomic damages compensate an accident victim for their pain and suffering, emotional distress, disfigurement, disability, and any loss of enjoyment of life. To learn more, talk to our office today.
Call or Contact Earnhart Law Today
If you or a loved one has been hurt at an amusement park, the time to act is now. Call the office or contact us today at Earnhart Law to schedule a free consultation of your premises liability case with one of our knowledgeable Delray Beach personal injury attorneys.