Motorcycle Owner Blames Victim for Her Own Death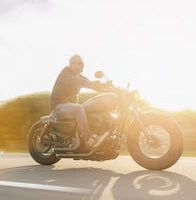 When Jennifer Amy St. Clair got onto a bike at the end of a date, she probably did not anticipate that anything would go wrong. Unfortunately, St. Clair ended up falling off the motorcycle on I-95 and was run over by multiple vehicles, dying from her injuries.
Now the owner of the motorcycle has argued that St. Clair should have known that getting onto a motorcycle with an intoxicated driver would have been a dangerous thing to do. The case highlights the challenges injured victims face when they make critical errors that likely lead to their injuries.
Motorcycle Owner: I Am Not to Blame
According to the Sun Sentinel, St. Clair had traveled with two other couples down to Delray Beach from Fort Lauderdale on December 7th. St. Clair's date, Miles McChesney, had been drinking that night, before the two of them got back onto the motorcycle in the early morning hours.
In a wrongful death lawsuit, St. Clair's parents have named both McChesney and John Lewis, the owner of the motorcycle, as defendant's responsible for Jennifer's death. However, Lewis has claimed that he had nothing to do with the accident, blaming it on McChesney's intoxication and high rate of speed, which caused him to lose control.
Lewis also has pointed the finger at someone else: St. Clair herself. His attorney has noted that she voluntarily got onto the motorcycle with someone who had been drinking. St. Clair also was not wearing a helmet on the night of the collision.
The Florida Highway Patrol is continuing its investigation, and McChesney has not been charged or arrested with any crimes.
Comparative Fault
Why do St. Clair's actions matter? Well, under Florida law, an injured victim can contribute to their own injuries if they were negligent. If what Mr. Lewis alleges was true, then St. Clair probably bears significant responsibility for her injuries since she knowingly got onto a motorcycle with someone who had been drinking.
It might sound tacky to blame the victim for her injuries, but there is definite logic to it. Not every victim is blameless, and a defendant is not responsible for the misjudgments that someone else makes. If a jury accepts what Lewis alleges, then any compensation St. Clair's parents obtain in a wrongful death lawsuit will be reduced by their daughter's percentage of fault.
Contact a Delray Beach Motorcycle Accident Lawyer
I-95 is just one of many very dangerous highways in the state, and many people are injured every year driving on them. If you or a loved one was hurt, please contact Earnhart Law today.
For over 30 years, our Delray Beach motorcycle accident attorneys have provided compassionate legal guidance to injured victims and their families. We are able to make a strong case for compensation by minimizing any errors that you might have made that contributed to your accident. However, we need to work with you right away before you give too much information to an insurance company.
Contact us today. You can schedule a free, no-risk consultation by calling 561-265-2220.
Resource:
sun-sentinel.com/local/broward/fort-lauderdale/fl-ne-pompano-st-clair-run-over-legal-filings-20190405-story.html
https://www.delrayinjuryattorneys.com/man-killed-in-motorcycle-accident-was-not-wearing-a-legal-helmet/