Motorcycle Accidents Can Cause Traumatic Brain Injuries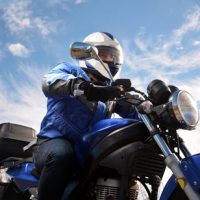 Motorcycling is a popular hobby in Florida. According to statistics, over half a million motorcycles are registered in the state, and thousands of enthusiasts visit from out of state on their bikes. Because there are so many bikes on the road, you should not be surprised that Florida is one of the states with the most motorcycle accidents. If you or a loved one has been injured while riding your bike, you should contact a Delray Beach personal injury lawyer.
The Gruesome Statistics 
Florida sees its fair number of motorcycle crashes. According to statistics from Florida Highway Safety and Motor Vehicles, in 2016 there were:
10,331 motorcycle crashes, up from 10,201 the year before
515 motorcycle fatalities, slightly down from 546 the year before
8,256 motorcycle injuries, about equal with the year before
The number of motorcycle crashes was higher than the number of crashes involving bicycles or pedestrians. Unsurprisingly, many injuries are catastrophic because motorcyclists are so unprotected. Many cyclists are directly hit in the collision, and many are thrown from the bike and end up striking road barriers or other objects.
Common injuries suffered in a motorcycle accident include:
Broken bones
Road rash
Lacerations and cuts
Sprains and strains
Spinal cord injuries
Nerve damage
Burns from an explosion or fire
Death

Traumatic Brain Injuries (TBIs) 
Unfortunately, traumatic brain injuries are also likely to occur in motorcycle accidents. Whenever the body or head suffers a jarring blow, your brain can move around and make contact with your skull. As a result, you might immediately black out and suffer internal bleeding or blood clots. A bad traumatic brain injury can also impede memory, speech, and thinking.
Common symptoms of a traumatic brain injury include:
Dizziness
Headaches that worsen
Slurred speech
Vomiting or nausea
Weakness in your extremities
Loss of coordination or balance
Serious confusion
Agitation
Unusual behavior, such as combativeness
If you notice any of these symptoms after a motorcycle accident, you should see a doctor immediately. Failure to promptly treat a TBI can only make your injury worse.
Length and Costly Recovery 
A mild concussion can often clear within 10 days and might only require bed rest and over-the-counter medication to manage pain. However, a more serious TBI could require immediate hospitalization. Doctors will focus on making sure the patient gets enough oxygen to their brain and that their blood pressure remains stable. Patients might also require surgery to stop bleeding or to remove blood clots, in addition to therapy to regain speech or mobility.
Holding Others Responsible 
You might be able to receive financial compensation if you can show that the driver who hit you was driving negligently or recklessly. Negligence can take many forms, including:
Getting behind the wheel while intoxicated or under the influence of drugs
Texting or reading a text while driving
Talking on the phone while driving
Eating
Smoking
Getting into an argument with someone in the vehicle
Daydreaming
Speeding
Swerving in and out of lanes
Tailgating
Driving while exhausted
If you can show that you suffered injuries because of someone else's negligence, you can receive compensation for medical bills, lost wages, and other damages.
Here to Help 
At Earnhart Law, our Florida attorneys represent accident victims attempting to pull their lives together after a severe brain injury. We know how to identify the evidence you will need to bring a successful lawsuit, and we are committed to providing the highest quality representation for our clients. Contact us today for a free consultation and case evaluation.
Resources:
worldatlas.com/articles/who-rides-the-most-motorcycles-in-the-us.html
firesportal.com/Pages/Public/DHSMVPublishedDocuments/Most%20Recent%20Year/Crash%20Facts%202016.pdf