Levels Of Burn Injuries Indicate Severity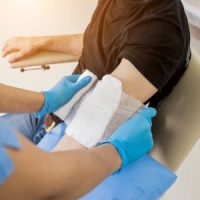 When a person is burned in a vehicular wreck, workplace accident, or other traumatic event, ongoing pain and long recovery times can follow. Depending on the severity of the injury, it is possible the burn victim will require surgeries, hospital stays, and months and months of rehabilitation appointments.
Burn injury lawyers are familiar with skin injuries and have experience in securing the monetary damages required to pay off medical expenses and compensate for lost wages. While a financial settlement can't turn back time, it can give you the funds you need to improve your life today, ensuring you access the care you need and are not saddled with debt for years. To learn about what options are available given the details of your case, connect with a Delray Beach personal injury attorney.
First, Second, and Third-Degree Injuries
In part because skin burns can vary in scope, healthcare teams diagnose a burn injury with a degree level. This allows everyone on the medical team to quickly understand if the burn is minor or if the skin has suffered major harm and more medical intervention is required.
First-degree burns. Painful but minor burns that can typically heal with care at home.
Second-degree burns. Blistered burns that could require medical care. Infection risks need to be carefully assessed as blisters that break can lead to dangerous infections.
Third-degree burns. Burns beyond the initial two skin layers, third-degree burns require medical care and could require medical procedures, skin grafts, and surgeries.
All burns need to be carefully cared for as secondary injuries, such as infections, can make recovery more complicated.
Burn Injuries, Liability, and Financial Recovery
Legal liability will be investigated when individuals are injured in an accident. Often insurance companies will be part of this process, but they are likely weighing how to make good on a policy while still saving money for the larger organization. The level of complexity in establishing negligence can be complicated. This is often true for injuries from chemical burns, for example.
You need a legal professional fighting for your best interests. Blindly accepting an offer from an insurance company could mean you are agreeing to a settlement that is much lower than what you would be able to secure with a Delray Beach personal injury attorney on your side.
Are you following a detailed treatment plan following a burn injury? If the burn was sustained in a car accident and another was negligent, a skilled attorney can support your right to a full and fair recovery amount. Burn injuries can be complex, you may need high-quality medical care to heal properly, and ongoing healthcare expenses can total into numbers that are difficult for families to afford. To learn about what amount of damages could be in reach given the facts of your case, connect with the attorneys at Earnhart Law in Delray Beach. Fighting for the rights of individuals for over 30 years, our attorneys know how to secure maximum settlements. Call our office at 561-265-2220 or contact us online to schedule a confidential, fee-free consultation.