Injuries Caused By Scaffolding Accidents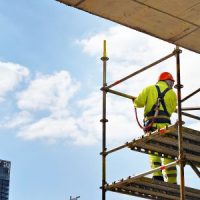 According to the Occupational Safety & Health Administration (OSHA), around 2.3 million construction workers, or around 65 percent of the industry, do some type of work on scaffolding. Thousands of accidents happen every year involving scaffolding, which results in an average of 4,500 injuries and sixty deaths annually. At Earnhart Law, our Delray Beach personal injury lawyers understand the dangers that come with working on scaffolding and are here to help the victims of workplace scaffolding accidents. If you or someone you know has been hurt while working on scaffolding, call or contact our office today to schedule a free consultation.
Causes of Scaffolding Accidents
Scaffolds are elevated, temporary work platforms used by construction site employees and others to work at elevated heights as well as to elevate materials and equipment. Typically, scaffolds are made from wood or metal piping, and when constructed and maintained properly they can be a safe way for workers to operate at significant heights. Unfortunately, safety is not always the top priority for employers, and this is when scaffolding accidents can happen.
According to the Bureau of Labor Statistics, 72 percent of scaffolding accidents are caused by either the support or planking giving way due to improper assembly or defective equipment, tripping or slipping due to slippery surfaces or a lack of guardrails, or falling objects hitting another worker on the scaffold or below. The other 28 percent of scaffolding accidents are attributed to electrocution accidents, inclement weather and other environmental conditions, inadequate fall protection, and scaffold overloading.
Scaffold Accident Injuries
Because scaffold accidents routinely involve a victim either falling or being struck by something from a substantial height, the injuries inflicted by this type of accident are often severe. Some of the most common injuries reported after a scaffolding accident include the following:
Traumatic brain injuries,
Skull and head injuries,
Facial trauma,
Spinal cord injuries,
Nerve damage,
Amputation injuries,
Complex, multiple bone fractures,
Serious lacerations,
Internal bleeding,
Internal organ injuries,
Paralysis,
Coma, and
Death
Given the seriousness of many of these injuries, victims of scaffolding accidents often require significant medical treatment and can end up with permanent disabilities that affect them for the rest of their lives. It is important that a scaffolding accident victim is represented by an experienced personal injury that can ensure they receive the compensation that they deserve.
Compensation for Scaffolding Accidents
Damages for scaffolding accidents include out of pocket costs, known as economic damages, which cover all medical bills, lost wages, and loss of future income and benefits. Compensation also covers an accident victim's pain and suffering, emotional distress, disability, disfigurement, and loss of enjoyment of life. In fatal accidents, the family of the victim can also seek compensation for wrongful death, which includes damages for any final medical expenses, funeral costs, pain and suffering, and for the loss of the victim's love, support, counsel, and companionship.
Talk to Our Office
If you or a loved one has been injured in a scaffolding accident, call or contact the experienced Delray Beach personal injury lawyers at Earnhart Law today to schedule a free consultation.
Resource:
osha.gov/scaffolding/construction