Illegal U-Turns And Other Reckless Traffic Behaviors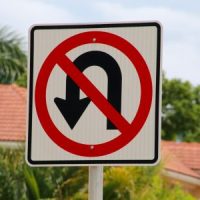 If you were ever driving around Southeast Florida, chances are you have noticed a driver making an illegal turn at least once. For individuals who drive daily, seeing these turns often is possible. One illegal turn that drivers make is a U-turn when they are not permitted to do so. It is called a U-turn because the vehicle is driven in an 180-degree arch, creating the shape of the letter U and moving the car in the opposite direction once the turn is complete.
There are situations where U-turns are legal maneuvers and other drivers are expecting this type of turn. But when the turn is performed illegally, it can be disruptive, surprising, and lead to collisions. If you have garnered expenses because of illegal behaviors on Florida roadways, talk to a Delray Beach personal injury attorney about financial recovery options.
Confusion Surrounding Fault and Liability
Accident cases involving signage can lead to one driver stating they believed they were making a legal turn and other points of confusion. There are opportunities for Florida drivers to make legal U-turns, but they are not allowed to do so when there are clear signs prohibiting this type of turn. Of course, there are situations where signage was obstructed or a vehicle made a three-point turn on a narrow street and a collision followed.
Who is liable is one of the many details that will be addressed when you report an accident. Even if you hold a percentage of fault, financial compensation could be possible. Share the facts with law enforcement that arrives at the scene but do not speculate on fault. Be clear and honest, but there is no need to overshare or elaborate.
Bills and expenses are possible when there is a car accident. For instance, physical harm can happen in a variety of ways, from a person's body striking a hard surface, loose cargo injuring passengers, or whiplash injuries due to the force of the collision. Seeking care from a doctor or other licensed healthcare provider as soon as possible is an essential step. Making your health a top priority is important and a legal professional will fight for your financial security moving forward.
FL Personal Injury Lawyers Get Paid When You Do
When you hire a Delray Beach personal injury attorney who provides services through contingency fees, you will not have upfront costs. Attorney fees will be distributed through your final settlement.
Was your car or truck struck when a Florida driver made an illegal U-turn and smashed into your vehicle? When another was reckless, you need to lean on your rights to recovery. While a financial package will not turn back time, it will give you the funds you need to access high-quality medical care and pay off other accident fees. Connect with the attorneys at Earnhart Law in Delray Beach to learn more. Because our attorneys have been fighting for the rights of individuals for over 30 years, we know how to secure maximum settlements. To get your claim started, call our office at 561-265-2220 or contact us online.