How to Travel Safely with Your Pet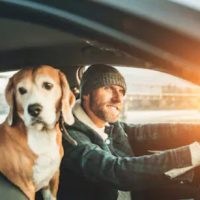 Summer road trips are difficult for all humans. Your children will probably become cranky, and your back and legs could tighten up after only an hour on the road. To ease the discomfort, you should probably schedule regular breaks and, if possible, trade off driving with your spouse or significant other.
However, traveling with a pet poses an extra challenge. Pets also get anxious while riding, and pets that can roam around the vehicle can easily surprise the driver and cause a collision. Below, our Delray Beach car accident attorneys provide simple tips to make transporting your pet safe and easy.
Put Small Pets in Crates
Cats, bunnies, hamsters, and even small dogs should travel in a well-ventilated crate. You can attach the crate to a seat belt using a harness so that it stays firmly in place.
A crate is ideal because you can see your animal and restrain its movement at the same time. Choose a crate that is well-ventilated and easy to access. You want to be able to change food and water without giving your pet a chance to spring free.
Avoid using low-cost options like a cardboard box. You can't see your pet in a box, and it could scare them. A box also has no ventilation and is dangerous. When choosing a crate, buy one that is a comfortable size for your pet.
Use a Harness for Larger Dogs
WebMD recommends not letting dogs stick their heads out the window because they could be hit by an object. Also, a dog sitting half out of the vehicle is not remotely restrained. When he lunges back in the car, he could land on the driver's lap, potentially interfering with the driver's ability to drive. An unrestrained dog can also be seriously injured in an accident when it could become a flying projectile.
To restrain a larger dog, buy a harness that attaches to a seat belt. You can buy one at any pet store for around $20. More elaborate models will cost more.
Don't Leave Your Pet Alone in a Car
Too much heat can be deadly for an animal. If possible, have one person stay behind in the car with the dog during a pit stop so that you can run the air conditioning and keep everyone cool.
If your pet is in a crate, you can easily remove the crate from the vehicle. But a larger dog would need to be leashed, otherwise it could run away. You don't want to spend hours searching for your dog.
If you are spending the night in a hotel, make sure that it accepts animals, otherwise someone will be sleeping out in the car with your pet. Call ahead.
Lay Down Rubber Pads for Your Dog
A long road trip can be difficult on your dog, who might not be able to hold its bladder. Putting down rubber mats can make cleaning up a breeze and keep your car spotless.
Contact Earnhart Law Today
We understand how important pets are to many of our clients. If you or your pet was injured in a crash, please contact us today, 561-265-2220. There is no fee for meeting for a consultation.
https://www.delrayinjuryattorneys.com/were-you-injured-in-a-driveway-accident/