Gathering Credible Witness Accounts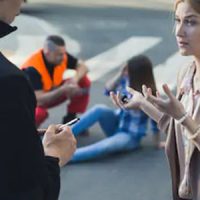 Witness statements may be part of a successful personal injury legal action. While they aren't always needed, they can be an asset when there is confusion about how an accident occurred and who was at fault. Typically viewed as a neutral third party, it is essential your witness is credible.
Of course it is often in your best interests to gather witness accounts or contact information from individuals who have seen the accident in the moments following the event. But that is not always possible and sometimes witness statements need to be collected at a later date. An experienced Delray Beach personal injury attorney understands what statements would fortify your claim and how to collect them. Talking to businesses near the accident and finding out who was working at the time of the accident could be a possibility, for instance.
Paths to Claiming a Witness Is Not Credible
There are times when an insurance company or the legal team of the other party will argue a witness statement is not credible, and that the individual is not a neutral party. This could be the case if any of the following are true.
There is proof the witness was distracted or paying attention to something else at the time of the accident.
Conflicting stories have been supplied, calling the witness's credibility into question.
The witness has a history of being dishonest or lying about events.
There is a reason the witness would benefit from one account of the accident or another.
Additionally, there are situations in which multiple witnesses provide conflicting accounts of what occurred. Then, the witness accounts could essentially zero one another out. This could be true if one person said a driver was behaving erratically and another says the driver was operating their vehicle with care and caution. If possible, your attorney will do research to boost the credibility of one of the witnesses in order to have the statement included if it were to help your case.
Your Florida Lawyer Can Collect Witness Statements
If individuals approach you after an accident and offer to provide witness statements, share their contact information with your Delray Beach personal injury attorney. Your lawyer will gather the statement and be sure all of the details are seen to in order to make the statement credible for your claim or case. Attorneys know how to build the best case once you provide them with the facts of an accident.
What did witnesses say happened after your Florida collision? If you are unsure how to collect witness statements to strengthen your claim, connect with the knowledgeable attorneys at Earnhart Law. Our legal team will assess your documentation and determine if more evidence is necessary to access a maximum settlement amount. Our skilled lawyers have been protecting the rights of personal injury clients for over 30 years, we know how to negotiate with insurance companies and other lawyers to get your accident expenses covered. Call 561-265-2220 or contact us online to schedule your no-cost consultation.