Florida Water Tubing Accidents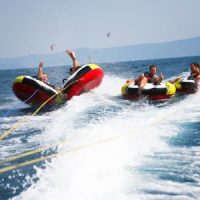 One of the most popular recreational activities for residents and tourists alike in the Delray Beach area is water tubing. Pulled behind a vessel moving at a significant speed, people sit or lay in an inflatable tube that bounces behind the boat in the water. While water tubing can be an incredibly enjoyable experience, it also has the potential to cause serious accidents and injuries if proper precautions are not taken. At Earnhart Law, our knowledgeable Delray Beach boat accident attorneys are prepared to zealously advocate for your right to compensation after a tubing accident. To learn more, call or contact our office to schedule a free case evaluation.
Common Causes of Tubing Accidents 
Water tubing accidents can be caused by many different things, and it is important to take all necessary safety precautions when engaging in this activity. Some of the most common causes of tubing accidents include the following:
Failing to wear a life jacket or other safety gear,
Wearing loose clothing that catches or snags on the tube,
No communication of hand signals to indicate the need to slow,
Striking obstacles or other vessels in the water,
Failure to check tubing equipment, such as the tube and rope,
Operation of the boat pulling the tube while under the influence, and
Tubing in inclement weather.
Tubing Accident Injuries
While many people believe that accidents out on the water are not as serious as those that happen on land, this idea could not be further from the truth. At high speeds, a person hitting the water can cause just as much damage as being hurt on solid ground. In addition, an injury victim in a tubing accident runs the additional risk of drowning and other harm specific to the water. Common tubing accident injuries reported by healthcare professionals include:
Traumatic brain injuries,
Near drowning injuries,
Broken bones,
Facial trauma,
Neck injuries,
Spinal cord injuries,
Contusions,
Internal injuries and bleeding,
Paralysis,
Coma,
Drowning, and other causes of death.
Liability in Water Tubing Accidents
There are many people who may be ultimately responsible in a water tubing accident. If the activity is being done by a company, the business who owns the boat may be held liable. The operator of the vessel may also be held responsible if they were operating the boat too fast or were intoxicated when the accident occurred. If the tubing accident was caused by a defect in the tube or rope, the manufacturer may also be held liable for any injuries that result. An experienced personal injury lawyer can help determine who is responsible for a water tubing accident and get victims the compensation that they deserve.
Talk to Our Office Today
Have you or someone that you know been injured in a water tubing accident? If so, you may be entitled to compensation. To learn more about your legal options, call the office or contact us in Delray Beach at Earhart Law today to schedule a free consultation of your injury case.