Florida Resort Accidents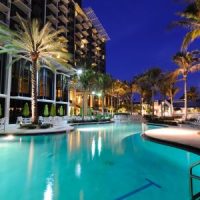 Florida is one of the most popular vacation destinations, and with good reason. Many tourists choose to stay at resorts, and Florida has more resort locations than any other state in the country. Whether a resort is on the beach or in a major metropolitan area, guests have an expectation that they will be safe while staying on the property. If an accident occurs on the premises that results in an injury, the guest may have a claim for compensation. If you or someone that you know has been injured at a resort in the Delray Beach area, talk to the experienced personal injury attorneys at Earnhart Law today to schedule a free evaluation of your case.
Florida Resort Premises Liability
Most accidents that occur at Florida resorts fall under the umbrella of premises liability claims. As a business, property owners have a duty to keep their premises free of hazards that they know or should have known about for their customers. Resorts and other businesses have the highest duty of care for their guests, as visitors are entering their premises for purposes that derive a monetary benefit for the property owners. If a premises owner fails to fix or warn guests of potential hazards on their property, they can be held liable for any injuries that result. Common examples of premises liability accidents that occur on resort properties include the following:
Slip and falls,
Trip and falls,
Swimming pool drownings,
Elevator and escalator accidents,
Food poisoning,
Bedbug infestations,
Accidents during recreational activities,
Unsafe balconies or decks,
Inadequate security that leads to robberies or assaults, and
General inaction after multiple instances of violence on the property that makes the likelihood of future incidents more likely.
Compensation for Premises Liability Claims
If you or a loved one is injured at a resort in Florida, you may be entitled to economic and noneconomic damages for your injuries. Economic damages cover all out of pocket expenses like medical bills, lost wages, property damage, and the loss of future income and benefits. Noneconomic damages compensate for an injury victim's pain and suffering, emotional distress, disability, disfigurement, and loss of enjoyment of life. In fatal premises liability accidents, the family of the deceased can also seek compensation through a wrongful death claim. This type of claim can compensate for any final medical bills, lost wages, funeral and burial costs, pain and suffering of the deceased, emotional distress of the family, and for the loss of love, guidance, support, and companionship of the victim. To learn more about the compensation available to you after an accident at a Florida resort, talk to our office today.
Talk to Our Office Now
At Earnhart Law, our experienced and knowledgeable Delray Beach personal injury attorneys understand how painful and traumatic an accident at a resort can be for victims and their loved ones. If you or someone that you know has been hurt at a Florida resort, call the office or contact us today to schedule a free consultation.
Resource:
law.cornell.edu/wex/invitee