Florida Pedestrian Accidents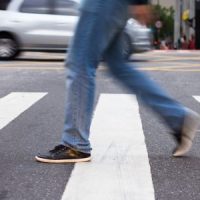 Today, more people than ever are walking to work, for exercise, and for fun. Pedestrians have a right to be safe when out, but unfortunately many drivers are negligent when it comes to looking out for people walking near or in the roadway. When a pedestrian is injured, the experienced Delray Beach personal injury attorneys at Earnhart Law are prepared to hold negligent or reckless drivers accountable for their actions. To schedule a free consultation of your case, call or contact our office today.
Common Causes of Pedestrian Accidents
Florida is considered the most dangerous state in the country for pedestrians, with 5,893 deaths in the last decade. Nine of the top thirteen metropolitan areas with the highest rates of pedestrian accidents are also located across the state. Older pedestrians, people of color, and pedestrians that are lower income are more likely to be involved in a fatal accident than other groups, but anyone can be the victim of a pedestrian accident when out walking.
Pedestrian accidents can happen in many ways, but the majority occur when a driver of a car, truck, or motorcycle is negligent or reckless while behind the wheel. Some of the most common causes of pedestrian accidents include the following:
Rolling stops or failure to stop at intersections,
Reckless driving,
Speeding,
Poor intersection design or maintenance,
Driving under the influence,
Distracted driving,
Passing a stopped school bus, and
School zone accidents
Pedestrian Accident Injuries
Because pedestrians lack any protection in an accident with a vehicle, the injuries sustained by accident victims are often severe. Injuries commonly reported after a pedestrian accident in Florida often include:
Traumatic brain injuries,
Skull fractures,
Facial trauma,
Neck injuries,
Spinal cord injuries,
Crushing injuries,
Amputation injuries,
Severe laceration and contusions,
Bone fractures,
Spine and back injuries,
Internal bleeding and organ injuries,
Nerve damage,
Paralysis,
Coma, and
Death
Compensation for Pedestrian Accidents
Pedestrians injured by a negligent driver deserve to be fully compensated for their damages. Economic damages cover all out of pocket expenses that include present and future medical expenses, lost wages, property loss, and the loss of future income and earning potential. Noneconomic damages compensate for pain and suffering, emotional distress, disability, disfigurement, and loss of enjoyment of life.
In fatal pedestrian accidents, the family of the victim may also seek damages for their loved one's wrongful death. Compensation for wrongful death includes damages for all final medical bills, lost wages, funeral and burial costs, any pain and suffering of the victim, and damages for the family's loss of love, support, guidance, and companionship of their loved one. To learn more about what your case might be worth, call or contact our office now.
Call or Contact Us Today
Do you have questions about what to do after a pedestrian accident in the Delray Beach area? The knowledgeable and dedicated personal injury attorneys at Earnhart Law promise to hold negligent drivers responsible for their actions. Call the office or contact us online to schedule a free evaluation of your case.
Resource:
sun-sentinel.com/news/transportation/fl-ne-south-florida-pedestrian-fatalities-20210319-7zqjuw7gbzg7lksh43fnoactnu-story.html#:~:text=South%20Florida%20had%201%2C675%20pedestrian,2.8%20deaths%20per%20100%2C000%20residents.&text=Among%20states%2C%20Florida%20ranked%20No,and%20an%20index%20of%20201.4