Florida Has Some of the Most Dangerous Areas for Pedestrians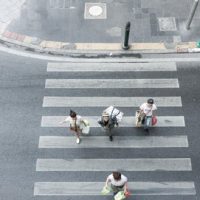 People flock to Florida for our glorious weather and low taxes. Unfortunately, they are coming to a state that is very dangerous for pedestrians. Although walking is great for a person's health and completely free, it can lead to devastating injuries—especially in Florida
According to the Tampa Bay Times, some cities in Florida are among the most dangerous for pedestrians, so extreme caution is required.
Dangerous Cities
To judge how dangerous a metropolitan region is to pedestrians, researchers must look at more than just the number of pedestrians killed. If they only looked at that number, then large cities would lead the rankings every year because they have more people.
Instead, researchers also look at the metropolitan area's population and the number of people who travel by walking. If a city has a high number of deaths relative to its pedestrian population, then it is a very dangerous city.
And there are many dangerous cities in Florida. For example, the Cape Coral-Fort Myers area ranked as the most dangerous. Another very dangerous metropolitan area is the Tampa-St. Petersburg-Clearwater area, which had over 800 pedestrian deaths in a 10-year period. The Miami-Fort Lauderdale-West Palm Beach area was ranked outside the top 10—but at a depressing #11.
Who Is Most Likely to Be Injured
Anyone can be injured while walking. However, statistically, some people are more at risk for a pedestrian injury than others, including:
Those aged 65 or older are about 50% more likely to be killed while walking than younger pedestrians.
Racial minorities. Though they make up only 35% of the nation's population, they account for 46.1% of all pedestrian deaths.
These risk factors are at least somewhat understandable. Seniors are less able to make quick defensive movements to avoid a collision and might also not see or hear an approaching vehicle as well as a younger person. Racial minorities also probably live in communities with poorer sidewalks and unsafe road design.
Further Improvements Needed
Florida has made strides to address pedestrian safety over the past decade. Many cities have improved lighting, as well as installing separated bike paths. Sidewalk extensions have also given pedestrians greater room to move around without being endangered by traffic.
However, additional attention is certainly warranted. According to the Florida Department of Highway Safety and Motor Vehicles, 2016 saw 9,102 pedestrian crashes, which caused 667 fatalities and 7,796 pedestrian injuries. These numbers were higher than the numbers for the previous years.
Preliminary numbers for 2018 show that over 6,000 pedestrian crashes have already occurred as of mid-September, resulting in 431 fatalities. If numbers continue along at these rates, then 2018 should be about as deadly for pedestrians as the most recent years.
Contact Earnhart Law
If you have been injured in a pedestrian accident, you might be entitled to compensation. At Earnhart Law, we have represented pedestrians and other victims for over three decades. We will help you identify who to hold responsible and gather evidence to make a compelling case for compensation.
To schedule a free consultation with a Delray Beach pedestrian accident lawyer, please call today.
Resources:
tampabay.com/news/publicsafety/accidents/florida-home-to-seven-most-dangerous-regions-for-pedestrians-study-shows/2308987
firesportal.com/Pages/Public/QuickStats.aspx
flhsmv.gov/pdf/crashreports/crash_facts_2016.pdf
miamiherald.com/news/local/article125588259.html