Florida Golf Cart Injuries And Hiring An Attorney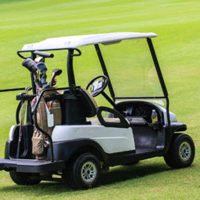 Living in the Sunshine State has a lot of benefits, including using open vehicles as a form of transportation. As a result, golf carts are a common way to get around parks, residential areas, and golf courses. But while golf carts can be an efficient way to travel, there is also the possibility of golf cart accident injuries.
As the state with the most golf courses in the US, Florida golf cart collisions can and do happen. If you or a loved one has been injured in a golf cart accident, hire a Delray Beach personal injury attorney. You do not have to navigate a complicated legal process on your own.
Tip-Overs and Cart-to-Cart Accidents
Even though golf carts travel at lower speeds than passenger cars and trucks, collisions and rollovers can happen. Just as traffic accidents can occur for a wide range of reasons, golf cart accidents are prompted by an array of accident risks. That said, some of the more common reasons include the following:
Reckless drivers, such as operating a golf cart under the influence or driving at an inappropriate speed.
Hazardous road conditions, including cracked pavement and potholes.
Faulty golf carts, from defective brakes to bald tires.
Negligence on the part of another, such as a bicyclist unexpectedly cutting off a golf cart.
While some golf cart accidents can be avoided by taking preventive measures, such as avoiding hard turns and traveling at reduced speeds, many situations are out of the control of the golf cart operator. However your golf cart injury was sustained, be sure to seek medical treatment right away and connect with a seasoned attorney for legal guidance.
Investigating Liability and Valuing Damages
Because there are variables to assess, who is liable for a golf cart accident is not always immediately clear. When you connect with an attorney, they will carefully listen to you. Then, they will investigate the accident and gather evidence.
In addition to determining liability, your attorney will calculate all of your losses, from current medical fees to future income loss. This full assessment, backed by evidence, will strengthen your argument for a certain level of compensation. And all of this documentation is essential to securing a settlement from insurance companies and liable parties.
A golf cart injury can affect your health, finances, and overall well-being, but there are professionals who can help you put the pieces of your life back together. When you hire a Delray Beach personal injury attorney, you can focus on your healing process and leave the legal details to a skilled team familiar with Florida personal injury laws.
Were you hurt in a golf cart collision? There are legal professionals who have experience with golf cart injury claims, talk to the attorneys at Earnhart Law in Delray Beach to learn more. With over 30 years of experience, our attorneys know how to fight for a full and fair damage settlement. To get your claim started, schedule a fee-free consultation, call 561-265-2220 or contact us online.