Florida Escalator Accidents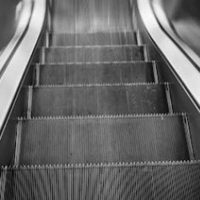 Escalators are a common way to transport people from one floor of a building to another and are commonly found in shopping malls, movie theaters, airports, arenas, sports stadiums, department stores, and train stations. While they may seem like harmless machines, escalator accidents happen every year, and the injuries caused by a defective escalator can be catastrophic for victims. If you or a loved one has been injured by an escalator in the Delray Beach area, the experienced personal injury attorneys at Earnhart Law are here to help. Call or contact our office today to schedule a free consultation of your injury case.
Escalator Accident Injuries
It is estimated that up to 12,000 people every year are injured or killed in escalator accidents across the United States. The elderly and young children are the most likely victims of an escalator accident, and while most injuries are caused by falls around ten percent are caused by feet, shoes, or hands becoming trapped in the escalator machinery. The injuries caused by escalator accidents can be serious, and some of the most commonly reported injuries include the following:
Crushing injuries,
Broken bones,
Amputation injuries,
Nerve damage,
Lacerations and contusions,
Burn injuries, and
Internal injuries and bleeding
For escalator accidents that result in falls, additional injuries can include traumatic brain injuries, head and skull fractures, facial trauma, and spinal cord injuries.
Common Types of Escalator Accidents
Escalators are made up of gears and interlocking steps, with other mechanical parts installed that are supposed to minimize the chances of an accident or injuries. You should always be wary of escalators that are making weird sounds, have gaps or spaces, are missing the foot brush, missing comb plates, or are missing steps. One of the most common types of escalator accidents are falls, either down the stairs or over the side of the handrail. Another common type of escalator accident is the side step entrapment, where a body part or item gets trapped between the side of an escalator side and the sides of the machinery.
A third common escalator accident is called a comb plate entrapment, and it occurs when a body part of shoe becomes trapped between the comb plate at the top and bottom of the escalator and a moving step. This type of accident can often result in devastating injuries, as can a similar type of entrapment accident involving the moving handrails. Body parts and clothing can be trapped between the handrail track and its guide, resulting in amputation or crushing injuries. To learn more about the types of accidents that can occur on escalators, talk to our office today.
Talk to Earnhart Law Today
Escalator accidents happen far more often than most people realize, and the results of such an accident can be serious for the victim and their loved ones. If you or someone you know has been injured in an escalator accident, call or contact the experienced Delray Beach personal injury attorneys at Earnhart Law today.