Florida Dog Bite Law: What You Need To Know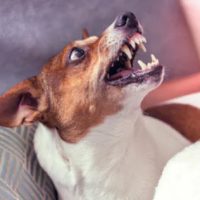 While dogs are considered man's best friend, not all dogs are friendly. When a dog bite attack happens, the results can be catastrophic for victims, especially when the victim is an elderly person or a child. If you or a loved one has been injured in a dog bite attack, the knowledgeable Delray Beach personal injury lawyers at Earnhart Law are here to help you get the compensation you deserve for your injuries. To learn more and to schedule a free consultation of your case, call or contact our office today.
Florida Strict Liability Law
There are two main types of dog bite laws: strict liability and the "one bite" rule. Florida is considered a strict liability state when it comes to dog bite attacks. A dog owner is liable for any injuries that result from a dog bite if their dog bites another person in a public place or on private property where the victim was lawfully allowed, including at the home of the dog owner. There is no exception allowed, even if the dog had no prior history of aggressive behavior or a history of biting that the owner knew or should have known about, which is the case in states that abide by the "one bite" rule.
It is important to note that the law is slightly different if a dog causes a person injury in a manner other than biting, such as jumping up on the victim or scratching them. In this case, the victim must be able to prove that the owner was negligent in their care of the dog in order to collect compensation for their injuries.
How Long Do I Have to File a Claim?
After a dog bite attack in Florida, the victim has four years from the date of the incident to file a lawsuit for damages. Known as the statute of limitations, failure to file a claim within this time period can result in the case being thrown out of court and the victim denied any compensation. Exceptions to the statute of limitations may apply if the victim is a minor, and different time limits apply if the dog bite attack results in a fatal incident and the family decides to file a lawsuit for wrongful death. Talk to an experienced personal injury attorney today to learn more.
Compensation for Dog Bite Attacks
Victims of dog bite attacks are compensated for their economic and noneconomic damages stemming from the incident. Economic damages include all out of pocket expenses, including medical bills, lost wages, the loss of future income and benefits, and property damage. Noneconomic damages provide compensation for any disfigurement, disability, pain and suffering, emotional distress, or loss of enjoyment of life caused by the attack.
Talk to Our Office Now
To learn more about your legal options and what your claims might be worth after a dog bite attack, call or contact Earnhart Law in Delray Beach today to schedule a free evaluation of your claims.