Florida Auto Insurance Requirements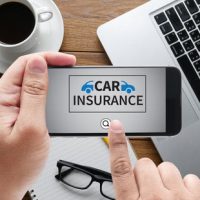 After a car accident in Florida, one of the first steps after the collision is that the drivers involved exchange insurance information. State law mandates that every driver carry a certain minimum level of auto insurance in case an accident occurs. The insurance coverage involved in an accident has a significant impact on the amount of compensation that an injury victim can receive after a crash, and an experienced auto accident attorney can help secure the damages that a victim deserves. At Earnhart Law, our dedicated attorneys have helped many accident victims collect compensation in the Delray Beach area. To learn more, call or contact us today to schedule a free consultation.
Florida Required Auto Insurance
Under Florida law, every vehicle registered in the state must maintain minimum levels of auto insurance. This includes both personal injury protection (PIP) and property damage liability (PDL). Personal injury protection covers eighty percent of all medical expenses up to $10,000, regardless of fault in a car accident, while property damage liability covers the costs to others if that driver is found at fault in an accident. Florida drivers must maintain a minimum of $10,000 of each PIP and PDL auto insurance, unless the vehicle is a registered taxi. Taxis must keep additional insurance of bodily injury liability (BIL) coverage of $125,000 per person or $250,000 per occurrence as well as $50,000 minimum PDL coverage.
For non-residents of Florida, drivers are required to maintain a valid auto insurance policy if they accept employment or engage in an occupation in the state or enroll their children in a public school within the state. If a Florida resident moves out of state, the minimum auto insurance coverage must remain in place until the vehicle is registered in another state and the Florida license plates are returned to a Florida DMV.
Other Insurance Requirements
In addition to the minimal auto insurance coverage, drivers in Florida must maintain their insurance even if their vehicle is inoperable or not being driven at the time. Auto insurance must also be purchased from an insurance carrier that is licensed to do business in Florida, and insurance coverage must be maintained regardless of the location of the vehicle, even if it out of state. Failing to maintain minimal auto insurance is a criminal offense and can have catastrophic civil consequences if a driver is involved in a car accident. Criminal penalties include driver's license suspension for up to three years, and in a civil lawsuit an injury victim may be able to go after a driver personally for damages if they fail to have the proper auto insurance.
Call or Contact Our Office
Auto insurance coverage is critical after an accident, and a knowledgeable car accident lawyer can help ensure that injury victims get the compensation that they deserve after a crash. At Earnhart Law, our experienced Delray Beach car accident attorneys are here to help. To learn more about your legal options after a car accident, call or contact our office today to schedule a free case evaluation.
Resource:
flhsmv.gov/insurance/