Do You Have to Wear a Motorcycle Helmet in Florida?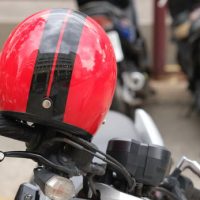 Motorcycle helmets save lives. Studies have shown that wearing a motorcycle helmet reduces the risk of death by 37% and the risk of head injury by 69%. Nevertheless, many riders would prefer not to wear a helmet, finding them inconvenient or a restriction on their field of view. In Florida, motorcyclists must wear helmets unless they fall under an exception, and, in any event, wearing a helmet makes sense. 
The Exception to the Helmet Rule 
Florida Highway Safety and Motor Vehicles identifies the two criteria you must meet to qualify for an exemption from the state's mandatory helmet requirement:
You must be at least 21 years of age or older
You must have insurance with at least $10,000 in medical benefits
You must meet both requirements. For example, you might be 20 and have over $10,000 of insurance coverage, but you must still wear a helmet because of your age. Alternately, you might be over 21 but not have insurance benefits. In this situation, you still must wear a helmet otherwise you are breaking the law.
Helmets Are Not an Impediment 
Studies have shown that wearing a helmet does not significantly reduce your visibility or your ability to hear. In fact, drivers can compensate for any reduction in visibility by simply turning their head more. Any reduction on the ability to hear was so small as to be statistically insignificant. Given the many safety advantages, there do not seem to be any valid reasons for not wearing a helmet.
If you want to reap the benefits of wearing a helmet, look for one that satisfies the U.S. Department of Transportation (DOT) Federal Motor Vehicle Safety Standard (FMVSS) 218. There should be a symbol on the backside of the helmet you can check. You should also buy a helmet with a face guard, or else you should wear goggles to protect your eyes.
Wearing a Helmet Protects Your Ability to Sue 
If another driver slams into you, you might be able to receive financial compensation for your injuries. However, Florida is a comparative negligence state, meaning that the state recognizes your own negligence might have contributed to your injuries. If so, you can still bring a lawsuit. However, the amount of compensation you receive will be reduced by your percentage of fault.
Imagine this common situation: Mike is struck by a passenger sedan while riding through an intersection. Mike is not wearing a helmet and suffers a traumatic brain injury, broken bones, and bad burns on his face. At trial, the jury finds that Mike is 30% responsible for his injuries because he was not wearing a helmet and the other driver is 70% responsible. If the jury values Mike's injuries at $100,000, then he only gets $70,000. He forfeits 30% because he did not wear a helmet.
Legal Advice You Can Trust 
Injured motorcyclists deserve compensation when someone else causes a collision. At Earnhart Law in Florida, we put our clients' well-being at the center of our practice. Contact us today for a free consultation and case evaluation.
Resources:
cdc.gov/motorvehiclesafety/mc/index.html
nhtsa.gov/road-safety/motorcycle-safety
flhsmv.gov/driver-licenses-id-cards/motorcycle-rider-education-endorsements/helmet-exemption/