Construction Industry Safety Tips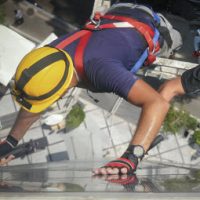 The construction industry is one of the most dangerous industries in Florida. Every week, local and national media carries stories about construction worker deaths in our state, such as the two workers killed at the Bonita National Golf and Country Club in late January, or the two construction workers who fell to their deaths in a scaffolding accident in 2018.
If you work in construction, workplace safety should be a top priority. Dangerous conditions and defective equipment could give rise to a personal injury lawsuit, especially when a worker must miss a week or more of work. Meet with an experienced Delray Beach workplace accident attorney today to discuss your case.
Take Advantage of All Training
Employers must properly train employees for how to do their jobs properly. You should take all training courses offered by your employer. Safety training will cover the primary reasons for accidents and give you the ability to minimize the risks.
Check Your Protective Equipment
You don't want to be injured because your goggles are broken or your ear plugs continue to fall out of your ears. Under federal regulations, your employer must provide you with personal protective equipment, and they must pay for it in most situations. Always check your equipment before each shift to make sure that it is in good condition. If it isn't, ask your employer for a replacement.
Get On and Off Equipment Safely
Many construction workers are injured trying to get on or off equipment. This is particularly true for forklift drivers and other equipment operators. Always check your gloves and boots to make sure they are in good repair. Also remember to clean off any mud from your boots because you want excellent traction.
You should also remember to use your entire hand or foot when climbing or descending. Avoid relying on just your fingertips and toes, since you will be less secure climbing that way. Also remember to never jump off equipment, which can result in injury.
Install Scaffolding Properly
Never erect scaffolding to close to live power lines. The risk of electrocution is very high, which can lead to falls or internal injuries.
Also remember to inspect scaffolding every day to make sure it is properly balanced and is not rusting or off kilter. Scaffolding accidents are a major source of injuries and construction fatalities. Workers can fall of the construction and injure themselves and others.
Clean out Debris
The construction site should be regularly swept and cleaned so that debris does not pose a trip or slip hazard. Falling is one of the leading causes of workplace injury, and can lead to brain injuries, nerve damage, and broken bones.
Representing Workers Injured in Workplace Accidents
Earnhart Law is a leading law firm in Delray Beach. Our personal injury lawyers have helped many injured employees receive compensation after an accident at work. If you have been injured and want to know your legal options, we can meet with you.
Please call 561-265-2220 for more information. We offer a free case evaluation, so there is no risk to calling us.
Resources:
abcnews.go.com/US/construction-workers-fall-death-florida-scaffolding-collapses/story?id=57469462
usnews.com/news/best-states/florida/articles/2019-01-24/construction-worker-killed-in-accident-at-country-club
https://www.delrayinjuryattorneys.com/commit-to-workplace-safety-in-2019/