Compensation for Road Rash and Other Skin Injuries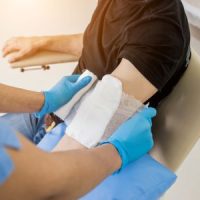 Road rash occurs when a person's skin rubs against the rough surface of the road, and this type of injury can occur during a motorcycle, bicycle, or car accident. Skin injuries can be incredibly painful and have the possibility of becoming infected, which can require extensive medical treatments.
Recovering from road rash or other skin injuries can be a long process. If you are having trouble managing medical expenses and are scared about the expense of future intervention needs, such as plastic surgery, consult with an attorney to discuss the possibility of damage recovery. A Delray Beach personal injury attorney will carefully listen to you and share with you possible paths to compensation for your damages.
Road Rash, Cuts, and Burns
A type of abrasion injury, road rash harm happens when the skin is scraped against asphalt or concrete. Road rash severity can vary, from mild cases of skin irritation to severe wounds that require surgery. Similar to burns, the severity of road rash injuries is classified into three main degrees.
First-degree road rash. A first-degree skin injury is one in which the abrasions only affect the top layer of the skin.
Second-degree road rash. When there are deeper abrasions, ones that penetrate the epidermis, there can be blistering and the injury will likely be categorized as a second-degree skin injury.
Third-degree road rash. Severe harm that extends through the epidermis, dermis, and sometimes down to the subcutaneous tissue, is a third-degree injury. These are serious injuries that can result in extensive damage to the skin and underlying tissues.
And of course there can be skin injuries beyond the road rash as well. Some skin injuries commonly encountered in traffic accidents include cuts, lacerations, burns, and contusions. All of these injuries can be incredibly upsetting and often require medical care.
Document Your Injuries to Establish Liability
When pursuing a personal injury claim for road rash or other skin injuries, thorough documentation is crucial. This means taking photographs of your injuries soon after they were sustained and as they heal. A visual record of your healing progression can be a key component to proving your need to be off work and in need of wage recovery, for instance, as well as proving damage recovery for scarring. Also document any medical treatments, medications, and doctor visits you undergo and keep a record of related expenses, such as hospital bills and prescription costs.
Establishing liability, which means proving that another party's negligence or wrongdoing caused the accident, could be part of your recovery process. An experienced Delray Beach personal injury attorney can help investigate the accident, gather evidence, and identify the at-fault party.
Who is advocating for your rights after an accident skin injury? When you hire an attorney, you can focus on your recovery while knowing that a dedicated professional is fighting for your rights and working towards fair and just compensation. Talk to the attorneys at Earnhart Law to learn more. Connect with the over 30 years of experience, call 561-265-2220 or contact us online.