Common Causes Of Boating Accidents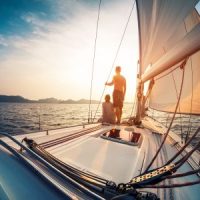 One of the most popular pastimes in Florida is boating. Speedboats, pontoons, fishing boats, kayaks, jet skis, paddleboards, and more all share the water around Delray Beach as thousands of people enjoy boating every year. Unfortunately, this also means that a number of boating accidents also happen annually. At Earnhart Law, our dedicated Delray Beach personal injury attorneys are prepared to zealously advocate for the compensation you deserve after a boating accident. To learn more, call or contact our office today to schedule a free consultation.
What Causes Boating Accidents?
There are many reasons why a boat accident might occur, but some factors cause boating accidents more often than others. The most common causes of boating accidents include the following:
Excessive Speed
Excessive speed is one of the most commonly cited causes of boating accidents and occur most often with vessels that can reach a high rate of speed, like speedboats and jet skis. When a boat is traveling too fast on the water it can be difficult or impossible to avoid an accident with another vessel or obstacle. The speed also often contributes to the severity of the injuries, as the force of impact is much greater than accidents that happen at lower speeds.
Operator Inexperience and Distraction
Operator inexperience and distraction are two more common causes of boating accidents in Florida. When a boat operator lacks experience, it is more likely that they will be unable to mitigate or avoid an accident due to a lack of knowledge or training. Operators that are distracted while behind the wheel also cause many accidents every year. This can be due to other passengers, using a cell phone, or being distracted by something outside of the vessel.
Alcohol Use
Alcohol use and the use of other controlled substances is also a common cause of boating accidents. Much like operating a car intoxicated, when a boat operator is under the influence they have impaired judgment, cognitive ability, awareness, and reactiveness. This can be further compounded if the vessel is out in the evening or at night when it is more difficult to see. Alcohol use makes it far more likely that a boating accident will occur, either on its own or colliding with another vessel on the water.
Compensation for Boating Accidents
Compensation for boating accident injuries includes damages for economic and noneconomic harms suffered as a result of the accident. Economic damages include all out of pocket expenses, including medical bills, property damage, lost wages, and the loss of future income and benefits. Noneconomic damages compensate a victim for their pain and suffering, emotional distress, disability, disfigurement, and loss of enjoyment of life. An experienced personal injury attorney will be able to advise you on what your claim might be worth.
Talk to Our Office Now
If you or someone you know has been injured in a boating accident in the Delray Beach area, the knowledgeable personal injury attorneys at Earnhart Law are here to help. Call the office or contact us today to schedule a free evaluation of your injury claims now.