Commercial Trucks And Accident Claim Negotiations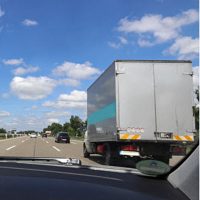 When it comes to commercial trucking, specific rules need to be followed. The size and weight of commercial vehicles can cause significant destruction, so there are guidelines beyond those that apply to passenger vehicles. For instance, according to the Federal Motor Carrier Safety Regulations, a trucking company needs to maintain and update driver histories. Then, if there is an unsafe driver or an operator who does not have the correct experience for a certain vehicle, they will not be sent out on a commercial trucking route.
An experienced Delray Beach personal injury attorney can guide you through the insurance claims process whether you were in a vehicular accident with a passenger vehicle or a commercial truck. Obtaining a full and fair recovery is important, if you sign a settlement agreement that is lower than the amount you need to pay expenses, you could be agreeing to future financial distress.
Loose Cargo, Improper Balance, and Maintenance Checks
With any motor vehicle accident, including those involving commercial trucks, there could be a range of factors that resulted in the crash taking place. Multi-vehicle crashes have been due to weather conditions, poor vehicle maintenance, and driver behavior, for instance.
But when it comes to the commercial trucks themselves, the trucking company has a responsibility to do all they can to keep their trucks safe on Florida roadways. This includes all of the following:
Cargo needs to be properly secured as loose cargo is an accident risk.
A balanced truck is less prone to a driver losing control and rollover risks, so all cargo needs to be loaded in a way that is balanced.
Trucks need to be regularly assessed for any maintenance issues. All parts and concerns are fixed promptly if an issue is noticed.
If a truck is involved in a collision and it had a record of ongoing maintenance issues or there was loose cargo or items that were not loaded correctly, the trucking company could be held liable.
Connect with a FL Truck Accident Attorney
You have rights, protect yourself from legal attacks and shield your future from financial loss by retaining legal counsel. It is important you connect with the recovery amount you need to move toward the future, whether you need damage recovery in order to access high-quality medical care or be reimbursed for current and future income loss. A Delray Beach personal injury attorney will listen carefully to where you are today and share next steps with you.
Were you involved in a Florida accident with a commercial truck? Crashes with commercial trucks can lead to complicated insurance claims. After all, multiple parties may carry a level of fault. Collect all of your questions and concerns, then connect with the attorneys at Earnhart Law in Delray Beach. With a long track record of fighting for our clients, our attorneys know how to secure maximum settlements. We have been fighting for the rights of individuals in Florida for over 30 years. Call our office at 561-265-2220 or contact us online to schedule a confidential, fee-free consultation.