Car Accidents & Property Damage: What You Need to Know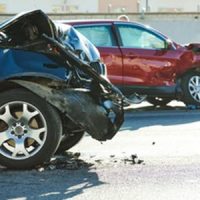 At personal injury lawyers in Delray Beach, we represent clients who suffer bodily injuries in car accidents. These clients have significant medical expenses and often lost wages. Combined, even moderate accidents can cost them tens of thousands of dollars.
However, our clients can also receive compensation for property damage, in particular damage to their vehicle. Even at low speeds, collisions can dent side panels and tear off bumpers. At Earnhart Law, we seek to maximize our clients compensation, and property damage can be a key part of any claim.
Property Damage & Liability
Although Florida does not require bodily injury liability insurance, it does require that people carry at least $10,000 in property damage coverage. This policy can kick in when a motorist is at fault for damaging someone's property.
Simply put, if another motorist rams your vehicle, they should pay for it. And the expense can be considerable. A new paint job for a vehicle can easily cost more than $1,000, for example.
When the Other Driver is Uninsured
Florida has a high percentage of motorists without insurance. One source estimates that more than 1 in 4 are on the road without necessary coverage.
If you were struck by an uninsured motorist, you still have options. For example, you could have collision coverage. This is no-fault insurance that pays for repairs on your vehicle up to the policy limit (and minus a deductible). Most often, motorists carry collision because they have a car loan, and the lender requires it. Check your paperwork.
Disputes Over the Cost of Repairs
The defendant is not required to repair your car so that it is "as good as new." After all, your vehicle could be 10 years old and have 120,000 miles on it. However, Fla. Stat. §626.9743(3) states that an insurer should restore the vehicle to its condition immediately before the accident.
Sometimes, insurers dispute how much money they need to put into a vehicle. They might claim there were significant problems with the vehicle that precede the accident. Serious rust or engine damage, for example. They might also insist that only used parts be used.
We also see insurers resist paying for towing and storage costs or the costs of a rental vehicle. If you had property in the car with you that was damaged, you should ask for that to be repaired or replaced, as well.
When a vehicle is fairly new, you might also request compensation for the diminished value. A car is worth less when it has been involved in an accident, even after repairs. Florida law allows some motorists to seek compensation for this diminished value from an insurer.
You Deserve Fair Treatment
Some insurance carriers are notorious for being stingy with car repairs. They might insist that a mechanic in their network work on the vehicle. This body shop could do a terrible job, e.g., using Bondo instead of properly fixing a vehicle. Some insurers engage in bad faith negotiation as well, in direct violation of Florida law.
Please contact the Delray Beach car accident attorneys at Earnhart Law today following a collision by calling 561-265-2220. We can discuss your accident and your chances of getting your car repaired.
Resource:
iii.org/fact-statistic/facts-statistics-uninsured-motorists