Can You Sue a Homeowners' Association for a Slip and Fall?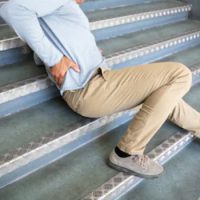 Palm Beach County has thousands of Homeowners Associations (HOAs), with tens of thousands of residents. Living in an HOA has many advantages, including amenities, uniformity of rules, and someone responsible for maintenance.
Unfortunately, many people are injured on their association's property, and they wonder whether they can bring a claim for compensation. Handling this type of case requires experience dealing with multiple insurance policies and questions regarding premises liability. The good news is that in many situations an injured victim can sue their HOA and receive damages for medical care, lost wages, and pain and suffering.
Identify Where You Were Injured
The primary legal issue will be identifying where you fell. For example, you might have fallen inside your home or in your yard. Alternatively, you could have slipped and fallen in a common area or in a neighbor's home or yard.
The general rules regarding liability are this: if you were injured in a common area, the HOA is probably responsible for its maintenance and upkeep. This includes keeping the premises free of hazards that can cause a slip and fall.
By contrast, property owners are responsible for the maintenance of their properties, including their yards. These areas are not the responsibility of the HOA but of the homeowner, so the HOA does not have liability if you fell there.
If you are unsure as to who has responsibility, check your Covenants, Conditions, and Restrictions (CCRs). They should identify the entity that is responsible for the area. Sometimes, the rules are not clear. For example, we see many disputes erupt when a person is injured on a walkway leading up to their home. The HOA might claim that the homeowner is responsible for this area, but the HOA might have responsibility.
Make a Claim with the HOA's Insurer
Everyone who owns a home in the HOA should have insurance. However, the HOA itself should have a master insurance policy. This policy should cover slip and fall accidents that happened in common areas when the HOA fails to keep the area safe.
Contact the HOA board for information about the insurer. They should share this information readily. If not, then a lawyer can obtain the information.
To make a claim, you will need sufficient evidence, just as you would if you were injured in a business. Take a picture of the hazard that caused you to slip and go to the doctor to fully document your injuries. Your attorney will also need to investigate how long the hazardous condition existed and whether the HOA or a member of staff knew about it. An HOA must keep common areas reasonably safe, but they are not always 100% to blame.
Hire an Experienced Attorney
Earnhart Law has extensive experience with slip and fall cases, including those in condominiums and HOAs. Please contact us today to speak with our Delray Beach premises liability attorneys. To make things easy, we offer a free, confidential consultation where you can ask questions about your legal rights.
Resource:
homeowners-associations-florida.com/florida_hoa_p_list.php?goto=1&masterkey1=Palm%20Beach&mastertable=flhoa_county
https://www.delrayinjuryattorneys.com/premises-liability-after-a-hurricane/