Boating Safety Tips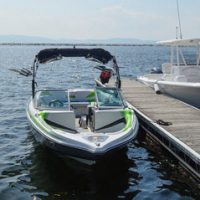 Nothing is more enjoyable than spending a day or evening out on the water. Unfortunately, boat accidents continue to climb in Florida, leaving far too many people dead or seriously injured. If you intend to enjoy some time this summer on the water, remember the following safety tips.
Avoid Drinking Alcohol and Boating
Boating While Intoxicated is the leading cause of boating fatalities, responsible for around 17% of all deaths on the water. Even one or two beers can severely impair your judgment, reflexes, and vision. If you want to drink, ask someone who is sober to be responsible for navigating the boat. Ideally, you will have two "designated navigators" who do not drink. They can partake of alcohol at the end of the day when everyone is safely on shore.
Drink Plenty of Water
Heat stroke can be deadly. It can also impair someone's judgment just as badly as alcohol or drugs. Early signs of heat stroke include dizziness or lightheadedness, flushed skin, headache, and fatigue. You might also experience cramps, nausea, and vomiting.
To keep from overheating, hydrate a few hours before going out to the boat and don't stop drinking once you are out on the water. Wear a sunscreen to protect against sunburn and wear a hat to keep the heat off your face and neck. If you start to feel dizzy, ask someone else to navigate for you until you can cool down.
Have Children Wear Life Jackets
Boating upsets can happen, even when you are navigating the boat carefully. Children thrown from the boat are at an increased risk of drowning, so make sure all children ages 12 and under are fitted with life jackets. For added safety, have all adults wear life jackets as well. After a collision, a passenger could bump their head and become unconscious, so the life jacket could save even adults who can swim.
Maintain a Safe Distance
Many boating accidents happen when boats collide or a boat hits another boat's wake. Always remember to leave sufficient distance between you and other boats. Look ahead and remember to focus on boating. Distracted boating is just as much of a problem as distracted driving.
Travel at a Safe Speed
The faster you are travelling, the easier it is to lose control of your boat. You also give yourself less time to slow down and avoid an accident. Maintain a safe, comfortable speed and slow down when approaching other boats. If there are "Slow No Wake" areas, remember to observe them.
Injured in a Boat Accident? Earnhart Law Can Help
Although we wish everyone has a safe summer out on the water, we know that accidents will unfortunately continue to occur. If you were injured in a boating accident, we want to hear from you. At Earnhart Law, our Delray Beach boating accident lawyers have helped many clients obtain the compensation they need to cover expenses. Let us put our 30 years of experience to work for you. Please contact us today for a free, confidential consultation.
Resource:
americanboating.org/safety.asp#Boating_Pointers