Are You Covered by Insurance as an Uber Passenger?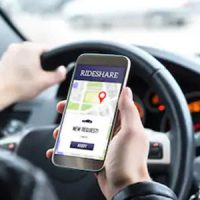 Ridesharing continues to increase in popularity. Companies like Uber and Lyft have revolutionized how people get around Delray Beach and surrounding areas. Although the number of users has dropped slightly (because of the pandemic), Uber still sees about 78 million users each month.
If you were injured in a rideshare accident, you probably are worried about how you'll pay your medical bills. If you can't work, you also need to replace lost income to cover your rent, mortgage, and utilities. Fortunately, those injured while riding in an Uber should be covered by insurance, although the policy that you make a claim on will depend on who is at fault for the wreck. Contact one of our Delray Beach car accident lawyers for more information.
Your Uber Driver is at Fault for the Wreck
Fault is the single most important issue in every car accident. Generally, when riding in an Uber or Lyft, the only entities at fault are:
Your driver
Another vehicle on the road
In the first situation, your driver could have made some mistake that leads to an accident. We are not surprised. Some rideshare drivers like to go fast or weave in and out of traffic. Even simple carelessness can lead to an accident, as when a driver doesn't check their mirrors before changing lanes.
When your driver is at fault, then his or her insurance should cover your injuries. Rideshare companies have $1 million insurance policies that can pay out compensation. This should be enough for even serious injuries and can cover medical bills, lost wages, and pain and suffering.
Of course, your Uber or Lyft driver might deny being responsible for the accident. They might pin the blame on someone else. But the insurance companies involved will hash out fault.
A Different Motorist is At Fault for the Accident
If another driver slammed into you or cut you off, then that driver is typically at fault. Here, you would make a claim on that driver's insurance policy.
Unfortunately, Florida does not require that motorists carry bodily injury liability insurance, and many do not. Instead, they only get no-fault personal injury protection insurance. If the driver has liability coverage, you can make a claim on his or her policy.
However, if the driver does not have any liability coverage—or not enough to cover your full loss—you can make a claim on Uber's coverage. Rideshare companies have underinsured/uninsured motorist coverage that will kick in to help in these types of situations so that riders are not left in a lurch.
Of course, you are still dealing with an insurance company. And they like to reject claims as a matter of course, so you would benefit from a lawyer's assistance whenever you make a claim.
Enjoy Your Ride
Life is stressful enough. Fortunately, legal options for compensation are available whenever you are injured as an Uber or Lyft passenger. For help with your claim, please contact Earnhart Law today at 561-265-2220 or send us an online message.
Resource:
statista.com/statistics/833743/us-users-ride-sharing-services/